Palestine
1000s attend funerals for Palestinian killed by zionist pigs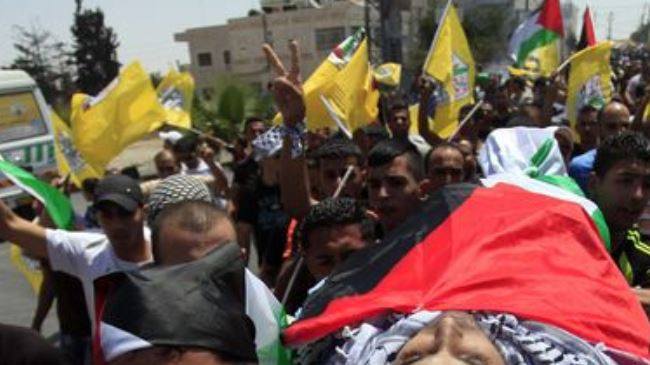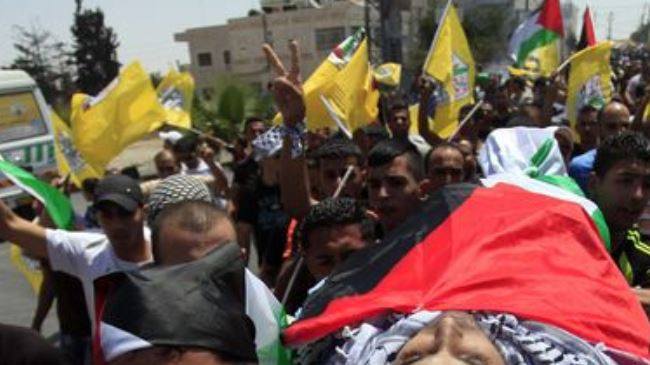 Thousands of Palestinians have attended a mass funeral for a young protester killed by Israeli forces in the occupied West Bank.
The funeral of 21-year-old Mahmoud Shawamreh was held in the occupied West Bank village of al-Ram on Wednesday.
The mourners chanted anti-Israeli slogans and called on the international community to break its silence in relation to Israel's acts of violence against Gazans.
Shawamreh was shot in the chest during clashes between Palestinian protesters and Israeli soldiers north of al-Quds (Jerusalem) on Monday.
Palestinian officials say he was killed as Israeli forces attempted to disperse demonstrators who were throwing stones at a military jeep.
The massive rally was held against Israel's ongoing deadly aerial and ground offensive on the besieged coastal enclave.
Figures show Israeli aerial and ground raids have killed 665 Palestinians, including women and children, and injured more than 4,200 others so far.
Latest reports say Palestinian resistance forces continue to inflict heavy losses on the Israeli army in retaliation for its deadly onslaught on the Gaza Strip.
The Israeli army has confirmed that three more soldiers were killed in clashes with Hamas fighters in Khan Yunis on Wednesday morning. This brings the Israeli military death toll to 33.
However, the military wing of Hamas, the Qassam Brigades, says at least 60 Israeli soldiers have been killed so far, nine of them on Wednesday alone.
Hamas has also fired a fresh volley of rockets on the regional councils in Ashdod and Ashkelon. A red alert is also in place in Lod, Yavne, Ramla, Shfela, Ashdod, and Ashkelon.
Sirens are also sounding in Rehovot and Beit Shemesh near al-Quds (Jerusalem ).
Israeli media say the Iron Dome missile system intercepted only five of Palestinian rockets fired at Ashkelon.