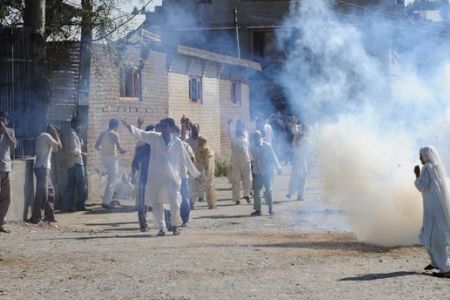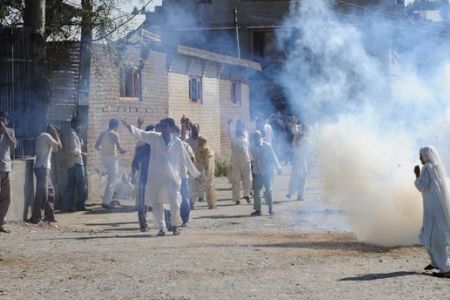 Thousands of people have taken to the streets in the Bemina neighborhood of Srinagar as tension is running high and threatening to boil over in Indian-administered Kashmir's summer capital.
The Kashmiris held another spontaneous demonstration after Indian police arrested three dozen protesters, sealed off neighborhoods with barbed wire, and put up roadblocks in Srinagar on Saturday.
Security forces fired tear gas to disperse the angry protesters, who chanted anti-India, pro-freedom and Islamic slogans. Hundreds more joined in anti-India protests in nearby Budgam, the Associated Press reported.
Since June, 62 protesters and bystanders have died in demonstrations — some as young as nine — as a result of clashes with armed paramilitary soldiers.
On Friday, police detained at least 20 young stone-throwers.
Despite calls from Indian Prime Minister Manmohan Singh for calm as well as the deployment of thousands of troops in the troubled Himalayan region, the unrest seems to be escalating, Indian newspapers reported late on Saturday.
There have been almost daily demonstrations against Indian rule in the region since June, when security forces killed a teenage protestor.
Government forces have responded by imposing curfews and restrictions on the movement of people.
The Kashmiri people have accused the Indian police of opening fire on peaceful demonstrators and bystanders during the unrest. Most of the victims were young men.
Kashmir lies at the heart of more than 60 years of hostility between India and Pakistan. Both countries claim the region in full but have partial control over it.
Despite the risks, it seems the Kashmiris are determined to continue their "people power" movement.
Political analysts say the frequent street protests of the past two years are giving new life to the Kashmir liberation struggle.
Over the past two decades, the conflict in Kashmir has left over 47,000 people dead by the official count, although other sources say the death toll could be as high as 90,000.