Turkey
1000s mourn protester death in Istanbul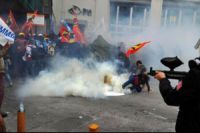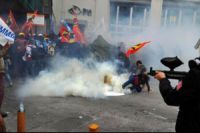 Thousands of mourners in the Turkish city of Istanbul have held a mass funeral for a man who was gunned down by police forces during a protest.
According to IRIB, Friday's funeral was held for Ugur Kurt, who was hit by a stray bullet when an anti-government demonstration turned violent on Thursday.
Meanwhile, protesters staged a march through the city to mark the killing of a teenage protester in Istanbul's district of Okmeydani last year. Riot police used tear gas and water cannons to disperse the demonstrators, who had blocked roads and set tires on fire.
Turkish authorities announced on Friday that another person died of his injuries during the clashes.
Prime Minister Recep Tayyip Erdogan defended the police's use of force and called the demonstrators terrorists.
Turkey is seething with anger over last week's mine disaster in the western town of Soma that left 301 miners dead.