Turkey
1000s of anti-govt. protesters gather at Istanbul's Taksim Square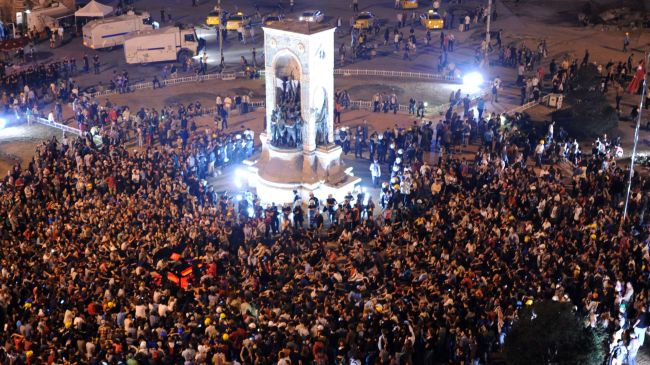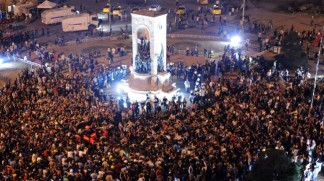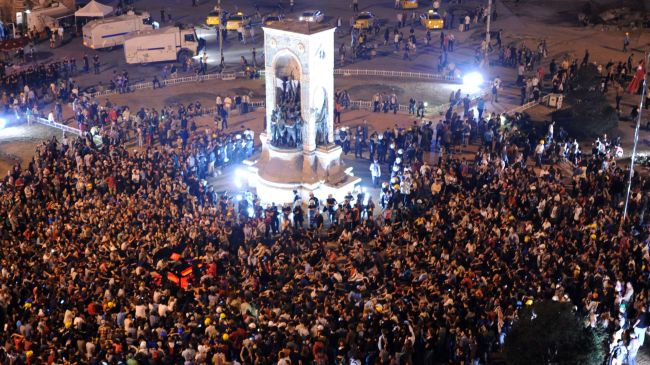 Thousands of demonstrators have gathered at Istanbul's iconic Taksim Square for fresh protest against the government of Turkish Prime Minister Recep Tayyip Erdogan.
The demonstration was held on Saturday despite the massive crackdown on anti-government protesters over the past weeks.
Demonstrations erupted on May 31 after police broke up a sit-in at Istanbul's Taksim Square in protest against a proposal to demolish Gezi Park.
The violence turned into nationwide demonstrations against the ruling Justice and Development Party, with police using water cannons, tear gas and rubber bullets against demonstrators.
Erdogan, whose government is the main target of protests, has described the demonstrators as foreign-backed extremists and terrorists.
Earlier on Saturday, Turkish artists, journalists and authors placed full-page advertisements in several newspapers, calling on Erdogan to stop using divisive language.
"We are concerned. The 'you vs. us' rhetoric is sharpening the polarization of society," the advertisement said, adding, "There is an air of frustration and hatred around."
On Friday, police also used tear gas and water cannons to disperse hundreds of protesters in the Dikmen residential district of the capital, Ankara.
Four protesters were reportedly arrested during the demonstration.
On Thursday, Turkish Deputy Prime Minister Bekir Bozdag said the authorities were investigating people who allegedly insulted government officials or provoked violence during the anti-government protests on social media.
On June 24, Erdogan praised the "legendary heroism" of police forces in quelling anti-government protests.
"Our police have responded to attacks, provocations without violating the law … and have written a saga of heroism," he said.
This came as Ankara has been widely criticized by human rights groups and its Western allies for using excessive force against protesters.