Palestine
1000s of Palestinians rally in support of Gaza in West Bank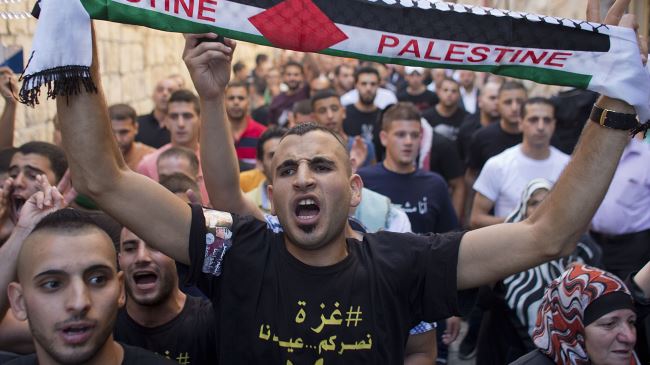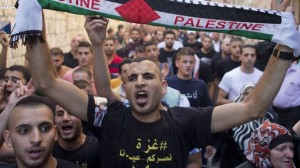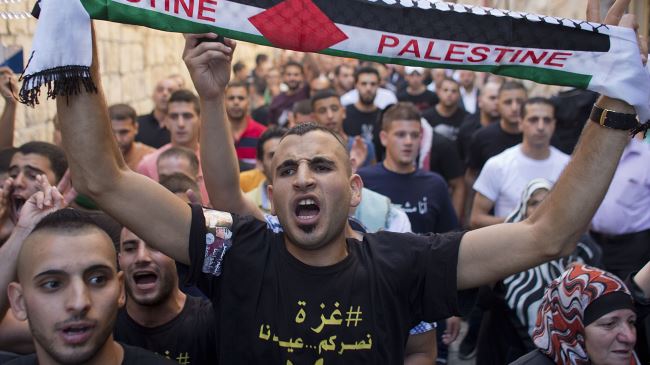 Thousands of Palestinians have rallied in the occupied West Bank to express their support for the people in the besieged Gaza Strip, which has been under Israel's relentless attacks for the past three weeks.
The rally was held on Monday after the Palestinians gathered to pray at the al-Aqsa Mosque in East al-Quds (Jerusalem) at the start of the Muslim holiday of Eid al-Fitr, which marks the end of the holy month of Ramadan.
Police put the number of worshippers at 45,000, with reports saying that many wore black T-shirts emblazoned with slogans reading "Gaza, supporting you is our Eid" and "We are all Gaza."
Others were dressed in T-shirts proclaiming support for military wing of Hamas, the Ezzedine al-Qassam Brigades, which has been engaged in a 21-day confrontation with Israeli troops in Gaza.
Overnight, stone-throwing protesters faced off with troops until dawn in Yatta in the southern West Bank. Palestinian security sources said three demonstrators were wounded by live fire and another three were arrested.
Following further clashes overnight in East al-Quds, another 22 people were reportedly arrested.
More than 1,050 Palestinians, including a large number of women and children, have been killed since Israel began its onslaught on the Gaza Strip on July 8. Over 6,200 Palestinians have been also wounded in the aggression. Hamas says they have killed about 100 Israeli soldiers during the war.
On Sunday, Israel Prime Minister Benjamin Netanyahu dismissed a UN-brokered truce proposal endorsed by Hamas, saying Tel Aviv will take whatever action necessary to fight the Palestinian resistance fighters.
The UN Security Council has called for an "immediate" and "unconditional" ceasefire in the Gaza Strip.