Saudi Arabia
Yemen
1000s of protesters in Sa'ada condemn Saudi slaughter of Yemeni children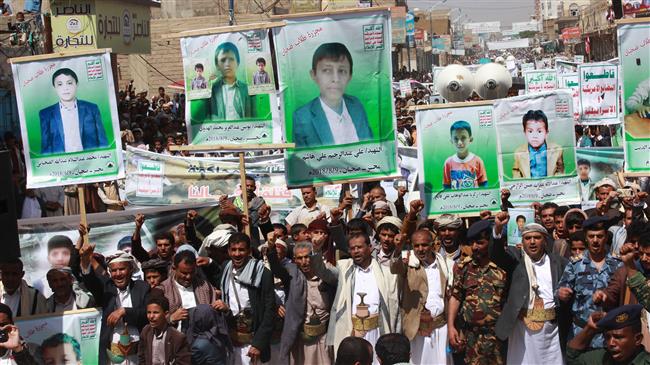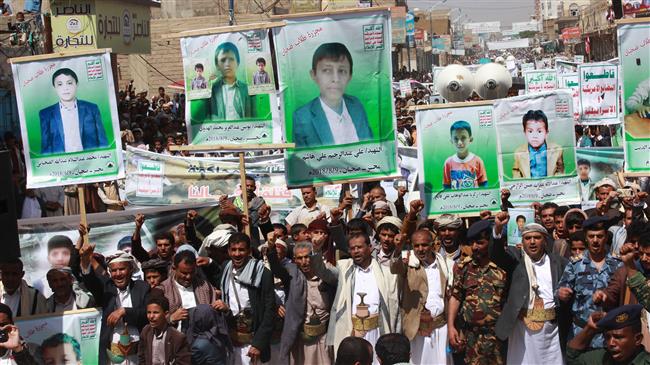 Thousands of Yemenis poured into the streets of Sa'ada in the country's northwest to censure the Saudi-led coalition's August attack on a bus carrying Yemeni students, calling on the international community to prosecute the Riyadh regime for its deadly campaign against the impoverished country.
On Wednesday, demonstrators held huge pictures of some of the children killed in the airstrike that claimed the lives of 51 Yemenis, mostly children.
Abdel Salam al-Seliehy, a Houthi Ansarullah official, told the huge crowd of protesters that the UN Security Council and the International Court of Justice must "prove their humanity" by prosecuting those behind the deadly attack.
He also called for legal action against those selling arms to the coalition, which has waged a devastating war on Yemen since March 2015 in a bid to restore power to the former Yemeni president, Abdrabbuh Mansur Hadi, a close ally of Saudi Arabia.
All the countries exporting weapons to the coalition are "directly involved in the bloodshed against children and women" in Yemen, said the Ansarullah official, adding that those countries "will be haunted by the shame of this crime and will not escape a legal action."
During the past few weeks, the Al Saud regime has been globally criticized, even by its closest allies, for its airstrike on the school bus.
In the most recent reaction, the Spanish Defense Ministry cancelled a €9.2-million deal to sell Saudis 400 precision bombs amid fears that they could be used against targets similar to the August tragedy.
The protest rallies in Sa'ada were held a day before the beginning of a fresh round of UN-brokered peace talks due to be held in the Swiss city of Geneva. The talks will be aimed at getting the former government of Yemen and the Houthi Ansarullah movement to "work toward halting the fighting, removing foreign forces, and establishing a unity government."
However, the UN's efforts are being hampered by the Saudi regime as it has banned the Houthis, a key side of the conflict, from attending the meeting.
Yemen's Al-Masirah television network reported on Wednesday that the UN has so far failed to "secure authorization" from the Saudi-led coalition, which imposes restrictions on Yemen's airspace.
The military aggression launched by Saudi Arabia, the United Arab Emirates and their allies against Yemen has so far killed over 14,000 and put millions of others on the verge of famine. It has also caused a deadly outbreak of cholera.