Europe
1000s protest against austerity cuts in Portugal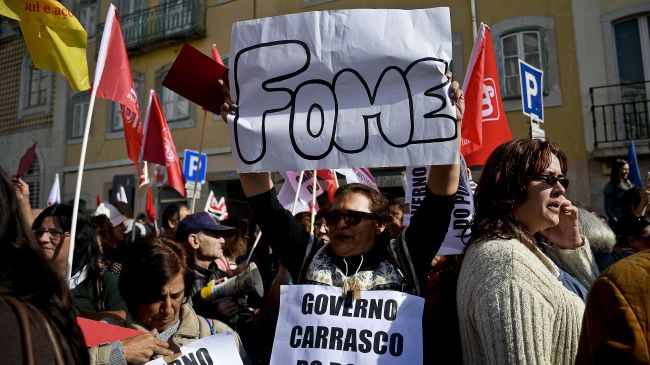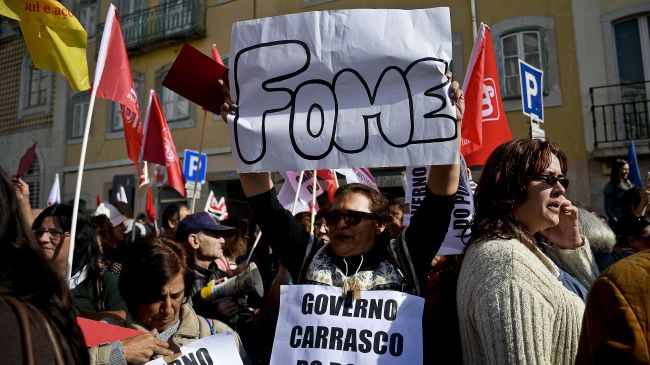 Thousands of demonstrators have protested in the Portuguese capital city of Lisbon against new austerity cuts in the public sector, calling on Prime Minister Pedro Passos Coelho's government to resign.
The demonstrations, which was organized by Portugal's main union (CGPT), was held on Friday in Lisbon where protesters shouted, "The hour has come for the government to go."
The crowd also demanded an end to the government's spending cuts that have been affecting the country over the past three years.
The protest came while lawmakers were preparing to vote on the first draft of the next year's budget, which includes an additional 3.9 billion euros (USD 5.3 billion) in spending cuts, partly through slashing public sector salaries and pensions.
The union said the budget "destroys jobs, steals salaries and pensions, cuts health, welfare and education."
The new cuts are required by the troika of international lenders – the European Union, the European Central Bank, and the International Monetary Fund – which granted Portugal an emergency loan worth 78 billion euros (about USD 107 billion) after Portugal's borrowing costs soared to unsustainable levels in 2011.
The demonstration came a day after Portugal's transport workers held a rally to protest the planned reforms, which also include privatizing the public transport network.
Despite the recent held protests, the Portuguese government has shown no signs of changing its mind about the austerity measures, as it hopes to complete the bailout program by next June.
Parliament is expected to vote on the final draft of the 2014 budget at the end of November.
Analysts believe that the budget will be approved by the parliament where a coalition led by Coelho's conservative Social Democratic Party (PSD) holds a majority.
Meanwhile, labor unions have called for additional demonstrations and work stoppage, including a strike by civil servant workers, to be staged on November 8.