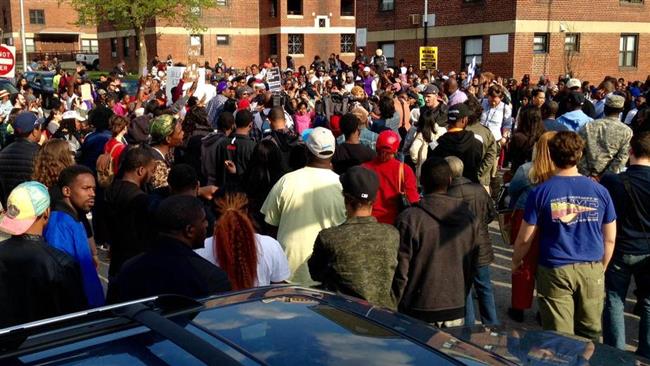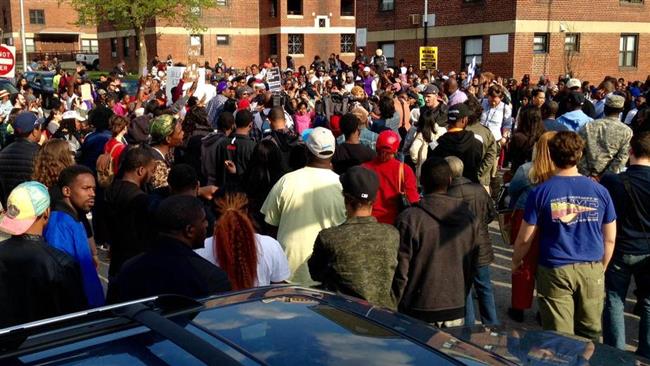 Thousands of have hit streets in Baltimore, Maryland, to protest the death of 25-year-old African American Freddie Gray at the hands of white police officers.
Late on Tuesday, the Black Lives Matter demonstrators poured into the streets to slam the death of yet another African American.
The protesters carried banners chanted slogans and held signs reading "Black Lives Matter" and "No Justice, No Peace".
Freddie Gray, 25, died on Sunday at a hospital one week after he was seriously injured while being arrested by the Baltimore Police Department.
The protest followed opening of a probe into the death by the US Justice Department.
According to family lawyer William Murphy, Gray fell into a coma after his spine was broken while he was in custody.
An eyewitness made a video of an injured Gray being dragged into a van by officers.
"You call 911 on your next door neighbor's son for being on the corner and he ends up dead in the ambulance…you feel a certain way where you don't want to bring Baltimore policing in your own area," Ray Kelly of local community group No Boundaries told CBS Baltimore.
The killing of several unarmed black men by white police officers in recent months and decisions by grand juries not to indict the officers triggered large-scale protests across the US.
There is also widespread racial disparity in the US criminal justice system. According to a study by the Sentencing Project research group, one in three black males are likely to be sentenced to prison sometime during their life. The figure for white men is one in 17.