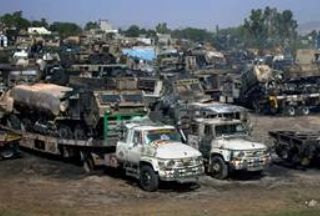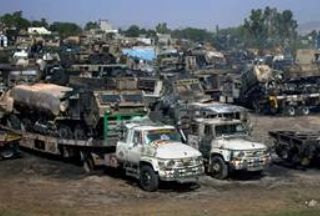 Reports say more than 11,000 containers bound for the US-led forces in Afghanistan have mysteriously gone missing over the past two years in Pakistan.
The containers filled with food and military equipment worth USD 220 billion have been illegally unloaded in Pakistan, sources said on Friday.
However, Pakistani officials put the number of missing containers at only 40 and blame corrupt customs department officials for the scam.
Reports say several Pakistani officials have been arrested over the missing containers. Many fear the items have been handed over the militants.
Pakistan, a US ally in the so-called war on terror, remains the main transit route for the NATO forces stationed in neighboring Afghanistan.
Trucks carrying supplies for foreign forces in Afghanistan frequently come under attack in Pakistan.
The developments also come after months after the disclosure that thousands of US weapons went missing in Afghanistan.
US military officials failed to keep proper records on about 87,000 rifles, pistols, mortars and other weapons sent to Afghanistan between December 2004 and June 2008.
Analysts say the weapons may have fallen in the hands of militants linked to the Taliban or Al-Qaeda.