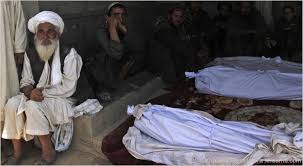 At least 12 people, including seven women, have been killed in a roadside bomb explosion in eastern Afghanistan, officials say.
The attack was carried out on Saturday when the victims were coming back from a wedding ceremony in Giro District of Ghazni Province, district governor Abdullah Khairkhwah said.
"Twelve civilians were killed, seven of them were women, and the rest were men, as their minivan vehicles hit a roadside bomb," Khairkhwah said.
He added that the blast also wounded two other civilians.
Roadside bombs are commonly used by the Taliban militants to target Afghan and foreign forces but often inflict casualties upon civilians.
According to a report from the UN mission in Afghanistan, improvised explosive devices have been the leading cause of civilian casualties in the attacks.
In 2013 alone, some 900 people were killed and 2,000 injured as a result of such attacks.
The Taliban recently announced the start of their "spring offensive" across Afghanistan and vowed to increase their attacks on US-led troops and Afghan forces.