Europe
12 killed, dozens injured as two trains collide in southern Italy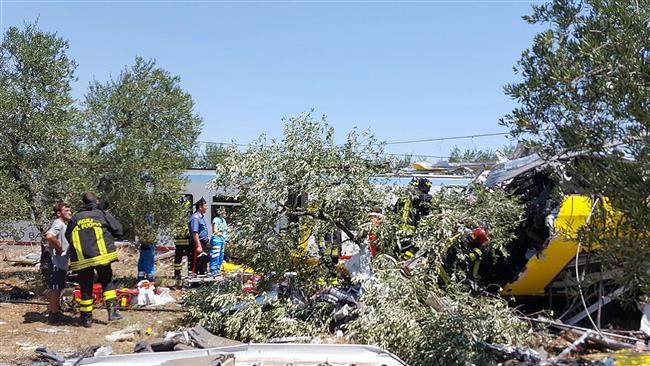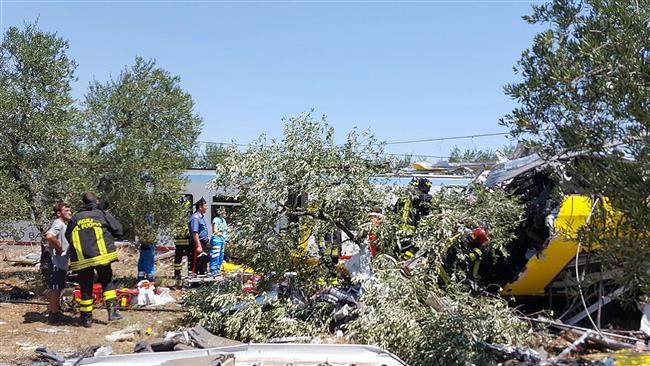 At least a dozen people have been killed and several others injured when two passenger trains collided head-on in southern Italy, officials say.
The trains, each with four cars, collided on a single stretch of track in countryside between the towns of Corato and Andria in the southern region of Puglia at about 11:30 a.m. local time (0930 GMT) on Tuesday morning.
An aerial image showed train carriages smashed and crumpled by the force of the impact.
Luca Cari, a fire service spokesman, said workers were pulling victims from the rubble, including a small child who was alive.
"We are working with dozens of rescue teams to open up the carriages," Cari said, adding they had saved a child from the wreckage.
"The rescue is complicated because this happened in the middle of the countryside," Cari said.
Sources said ambulances and fire trucks were reaching the scene of crash.
This handout picture released by the Italian firefighters Vigili del Fuoco press office on July 12, 2016 shows crashed carriages after a head-on collision between two trains in Italy's southern region of Puglia. (By AFP)
Prime Minister Matteo Renzi interrupted a trip to the northern city of Milan after the crash and returned to the capital, Rome.
There was no immediate reason given for the collision.
However, Renzi says the train crash "is a moment of tears" and has pledged not to stop until a cause is determined. "We won't stop until we get a clear explanation over what happened," Renzi told reporters in Milan.
Some media reports have put the death toll higher from the head-on collision between two commuter trains in Italy's south. There were fears the number of deaths could rise further.
The line is used by thousands on around 200 trains every day. Work is under way to make it a double-track line.