Europe
12-plus injured in Spain police, miners clashes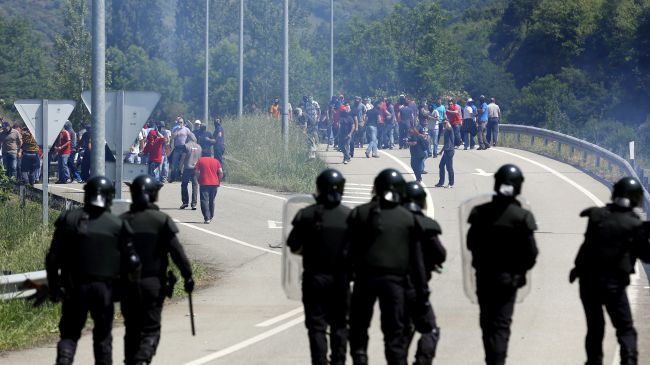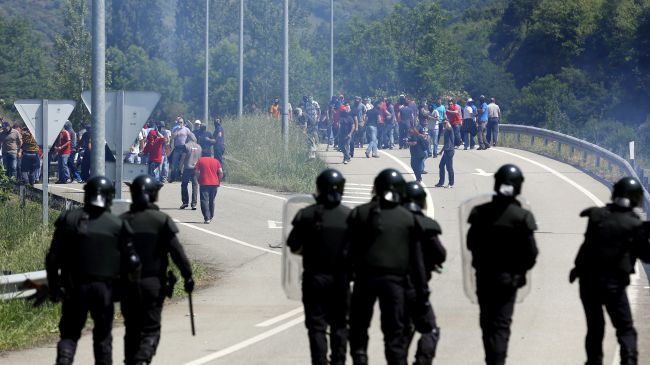 More than a dozen people have been injured and at least two others arrested in Madrid in clashes between the police and the striking coal miners, who were protesting against cuts in government subsidies to the mining sector.
Thousands of the miners converged from across the country in the capital on Thursday as part of a nationwide strike action called by the unions opposed to spending cuts in the sector.
The clashes erupted after some protesters threw firecrackers at the police officers, who had surrounded the Ministry of Energy, Industry, and Tourism building. The police used batons and reportedly fired rubber bullets to disperse the protesters.
According to local media reports, at least 14 people were injured during the scuffle, including two journalists and eight policemen.
The protest rally had been organized by the country's two biggest unions, The Socialist-leaning General Workers Union (UGT) and the Communist-leaning Workers Commissions (CCOO), in protest to the conservative government of Prime Minister Mariano Rajoy for its reducing the total subsidies for the mining sector from EUR 300 million last year to EUR 110 million in 2012 budget.
The miners were supposed to end their now-four-day-long strike on Thursday, but the unions have vowed to continue their industrial actions if the government does not increase the subsidies this year.
Coal miners say the reduction in subsidies would lead to the collapse of the country's coal mining industry because without government aid, Spanish coal would be more expensive than imported coal.
Some 8,000 people are employed in the 40 remaining mines across Spain.
On Wednesday, the European Commission said Spain is on the top of the list of 12 critical economies in the eurozone due to its deepening financial crisis.
Doubts over how recession-hit Spain will handle its financial crisis have sparked concerns that the country will soon follow Greece, Portugal, and Ireland, asking for financial assistance.
The Bank of Spain, the county's national central bank, reported on Tuesday that the country's economy will shrink in the second quarter of 2012, with the recession expected to continue until at least mid-2012.
The developments come as the European Union has called on Madrid to come clean on the way it plans to finance the overhaul of its banking sector.