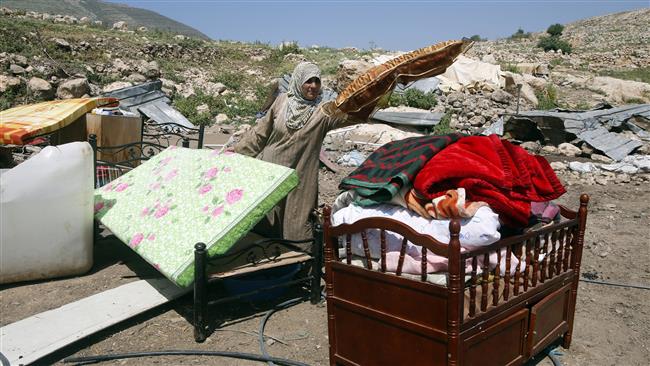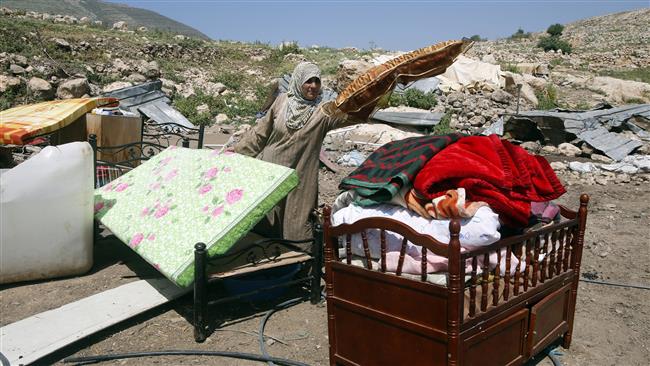 The United Nations Office for the Coordination of Humanitarian Affairs (UNOCHA) says 124 Palestinians, including 60 children, have been made homeless in a single day in terrorist israel's demolition campaign across the occupied West Bank.
The UNOCHA announced in a statement on Friday that a total of 54 structures, among them 18 donor-funded ones, had been razed in nine different Palestinian communities the previous day.
The statement added that the demolitions affected 293 people, including 98 children, in those areas.
Thirty four of the structures razed were demolished in the village of Khirbet Tana near the West Bank city of Nablus, displacing 69 Palestinians. A total of 29 of those displaced were children.
"Many of the demolished structures [in Khirbet Tana] had been provided by donors as relief after earlier demolitions," the UNOCHA pointed out.
Recent figures released by the UN show the Israeli military has more than tripled the demolitions of Palestinian structures in the occupied West Bank over the past three months.
The world body said average monthly demolitions have increased since January, rising to 165.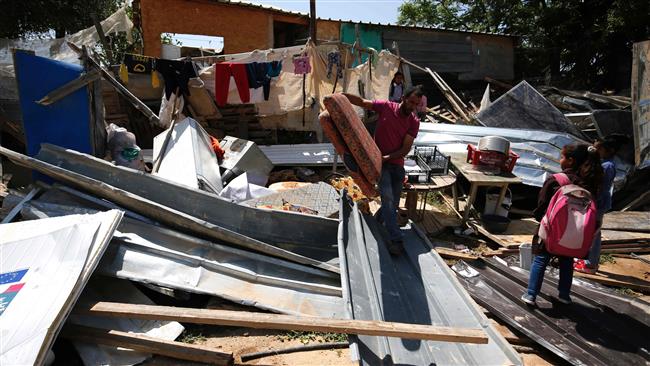 The demolitions have raised alarm among diplomats and human rights groups over the Tel Aviv regime's continued violation of international law.
Meanwhile, the Palestinian mission to the United Nations is circulating a Security Council draft resolution that condemns Israel's illegal settlements in the occupied territories.
The mission said on Thursday that it is discussing the text with a number of Arab countries, but declined to provide any of its details.
It added that the Security Council has unanimously agreed that Israeli settlements are illegal.
More than half a million Israelis live in over 230 illegal settlements built since the 1967 Israeli occupation of Palestinian territories in the West Bank including East al-Quds (Jerusalem).
The presence and continued expansion of Israeli settlements in occupied Palestine has created a major obstacle for the efforts to establish peace in the Middle East.
Palestinians want the West Bank as part of a future independent Palestinian state with East al-Quds as its capital.