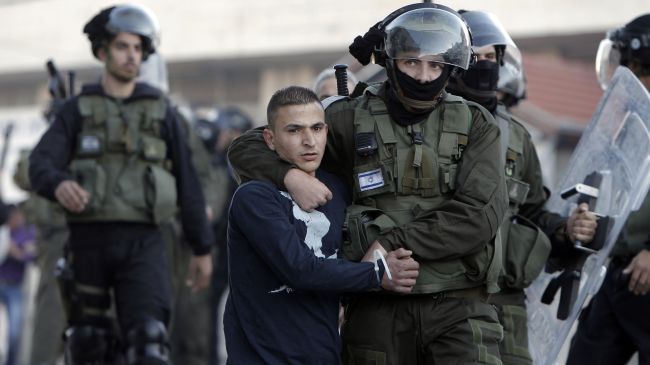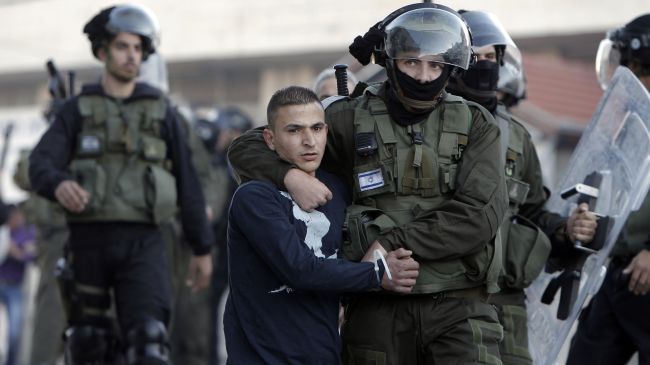 Terrorist Israeli forces have detained at least 1,300 Palestinians since last June in East al-Quds (Jerusalem), Palestinian Prisoners' Club (PPC) says.
According to the PPC, over 40 percent of the detainees were minors under the age of 18, Palestinian media reported on Sunday.
Those arrested were, in most cases, charged with throwing stones, firecrackers, and Molotov cocktails at Israeli targets.
The Terrorist Israeli regime ordered some of the detainees to pay fines while others were given deportation orders or put under house arrest.
Meanwhile, Mufeed al-Haj, an attorney with the PCC, said the number of arrests has not only increased, but the quality of the sentences given to Palestinians has become harsher.
Terrorist Israeli cabinet has recently approved a motion that allows a jail sentence of up to 20 years for the Palestinians who throw stones or other objects at Israelis and their vehicles.
Earlier in October, in an interview with Press TV, Qadura Fares, with the PPC, censured Israel for making numerous arrests in the occupied West Bank, saying the campaign is part of the regime's war against the Palestinian people.
Reports say over 7,000 Palestinians are being held in Israeli jails. Approximately 2,000 of the Palestinian prisoners have been arrested over the past few months.
On September 26, the Ahrar Center for Prisoners Studies said the Terrorist regime was holding 540 Palestinians without trial, showing an increase in the number of these cases over the past six years.