Asia-Pacific
16 killed, 10 heavily injured in S.Korean ventilation collapse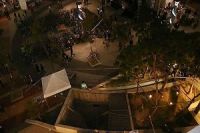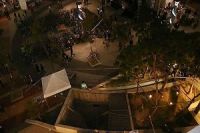 Sixteen people have been confirmed dead, with 10 others heavily injured, in a South Korean accident in which a ventilation window at an outdoor theater collapsed, Yonhap News Agency reported on Friday citing the fire authorities.
A total of 26 people were standing above the ventilation grate for a better view of a K-Pop performance at an outdoor theater in Seongnam, just south of the capital Seoul.
Among them, 12 people were dead on the spot, with two passing away on the way to a nearby hospital. The other two were killed during medical treatment at the hospital. Ten others are sustaining heavy injuries.
The number of fatalities was feared to rise as the people fell from a 10-meter height to the fourth basement floor of the theater's parking lot.
The ventilation window collapsed at about 5:53 p.m. local time for unidentified reasons.
About 700 people gathered at the outdoor theater for the evening concert of K-Pop stars.