Syria
16 killed, scores injured in mortar attacks by US, israel, QatariTurkey, KSA backed terrorists in Syria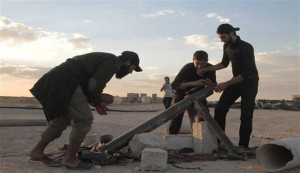 Mortar rounds fired by foreign-backed insurgents in Syria have struck major cities of Aleppo and Damascus, killing 16 civilians and wounding scores of others.
Twelve civilians were killed on Saturday when a terrorist mortar attack struck in the al-Aziziyeh neighborhood of Aleppo.
The mortar shells, which smashed into al-Salloum Hospital and Planet Hotel, also caused injury to 16 others.
A similar attack that targeted the Faculty of Trade and Economy at Aleppo University left 22 civilians injured, mostly students.
In another incident, four citizens, including a 16-year-old girl, were killed of a mortar shell fired by terrorists on al-Dweil'a neighborhood in Damascus.
A mortar shell, fired by terrorists, hit a minibus in al-Dweil'a, claiming the lives of 4 citizens and injuring 4 others and causing material damage to a number of cars, a police source said.
In April, meanwhile, a child was killed and others were injured, including women and children, in a series of terrorist attacks carried out by the armed terrorist groups in al-Dweil'a neighborhood.