Syria
19 killed, 120 injured in militant attacks in Syria's Aleppo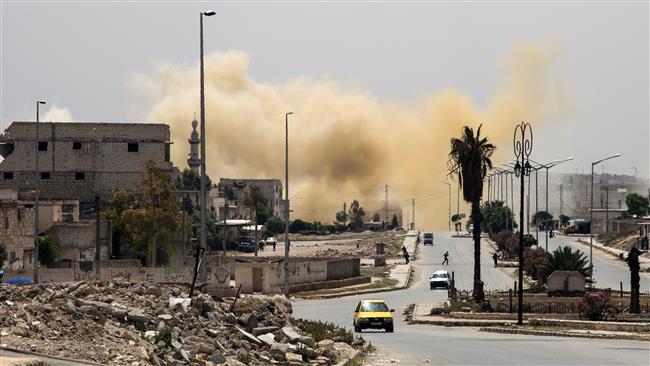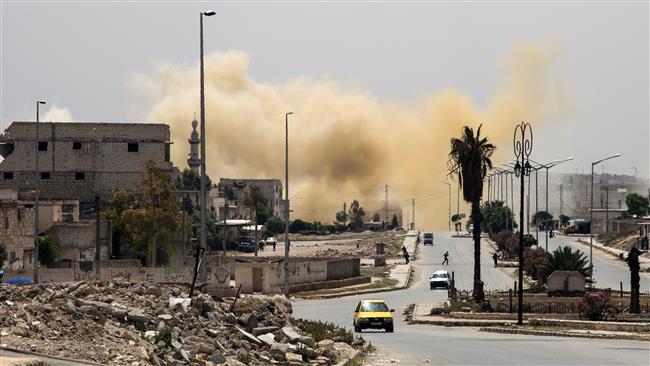 At least 19 civilians, including three children, have been killed in rocket attacks carried out by terrorist groups in Syria's northern city of Aleppo.
Some 120 people were also injured in the attacks on residential areas on Monday, the so-called Syrian Observatory for Human Rights said.
Syria's official news agency, SANA, said that some 16 people died and 86 others were injured in the attacks carried out by al-Qaeda-affiliated al-Nusra Front and its allied groups.
According to reports, some 86 civilians have been killed in Aleppo in clashes between government forces and militant groups over the past three years.
On Sunday, the Syrian Foreign Ministry sent letters to the UN Security Council and UN Secretary General Ban Ki-moon to protest the terrorist attacks on residential neighborhoods in Aleppo and the capital, Damascus.
The letters said that the attacks violated the ceasefire, which was brokered by Russia and the US, and which took effect in February.
Syrian officials say the recent militant attacks show lack of seriousness on the part of opposition to respect the truce deal.
Damascus and militant groups involved in the ceasefire have been trading accusations of truce violation.
Meanwhile, Syria peace talks are going on despite the absence of the so-called Saudi-backed opposition group High Negotiations Committee (HNC), as the group's leaders left the talks on April 19 to protest at what they called escalating violence and restrictions on humanitarian access in Syria.
Syria has been gripped by foreign-backed militancy since March 2011. Damascus says Saudi Arabia, Turkey and Qatar are the main supporters of the militants fighting the government forces.
According to UN special envoy for Syria Staffan de Mistura, some 400,000 people have lost their lives as a result of over five years of conflict in the Arab country.