Africa
World News
192 Egyptians flee Libya through Tunisia amid rising ISIL threat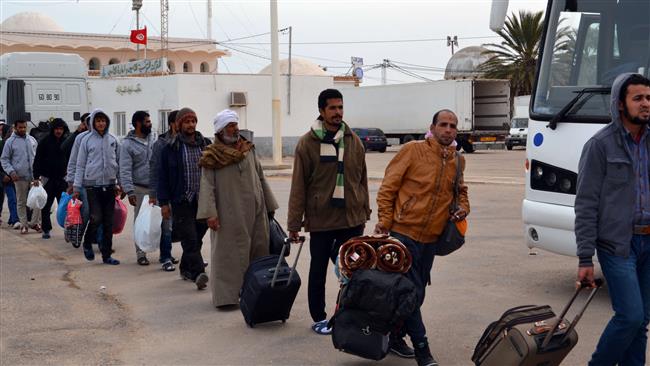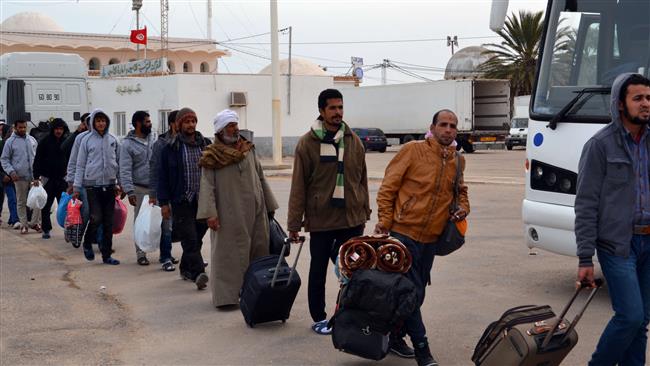 A group of 192 Egyptians have left Libya for Tunisia amid the rising threat of the ISIL Takfiri terrorist group in the violence-wracked North African country.
Reports said on Friday that the Egyptians left Libya from the Ras Jdir border crossing and headed towards the Tunisian island of Djerba.
Cairo said it will send planes to Djerba to transport the Egyptian nationals to their homeland.
Before their departure for the island, the Egyptians were shortly held up by a group of protesters in the Tunisian border town of Ben Guerdane.
The protesters, who demanded the government's investment in the impoverished city, reportedly released the Egyptians after a while and provided them with food and water.
ISIL terror gains momentum in Libya
Earlier in the day, at least 45 people were killed and dozens of others injured in triple bomb explosions that struck Libya's northeastern city of al-Qubah. The ISIL Takfiri terrorist group claimed responsibility for the deadly blasts.
A brief statement by the terrorist group said the attacks were carried out in revenge for this week's air strikes on the group's stronghold of Derna, some 30 kilometers (20 miles) east of al-Qubah.
Egypt launched air strikes against the positions of the ISIL militants in Libya in retaliation for the terrorist group's brutal beheading of 21 Egyptian Coptic Christians.
On February 15, the Takfiri ISIL group released a video showing the beheading of 21 Egyptian Christians in Libya. The victims had reportedly been abducted in the Libyan coastal city of Sirte in two attacks in December and January.
Last month, Libyan Prime Minister Abdullah al-Thinni warned that Libya may turn into a safe haven for the ISIL Takfiri terrorists, who currently control swathes of land in Syria and Iraq, thus posing a significant challenge to the security and stability of the world.
Source of conflict
Libya has two rival governments vying for control of the country, with one faction controlling Tripoli, and the other, Libya's internationally recognized government, governing the cities of Bayda and Tobruk.
Libya's government and elected parliament moved to the eastern city of Tobruk after an armed group based in the northwestern city of Misrata seized Tripoli and most government institutions in August 2014.
Libya plunged into chaos following a 2011 uprising against the dictatorship of Muammar Gaddafi. The ouster of Gaddafi gave rise to a patchwork of heavily-armed militias and deep political divisions.
The country has been witnessing numerous clashes between government forces and rival militia groups, which refuse to lay down arms.
Battles among the rival militants, who had participated in the anti-Gaddafi uprising, are mainly over the control of oil facilities in eastern Libya.