Egypt
'2 candidates to run for Egypt president'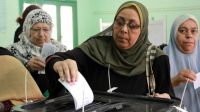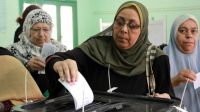 Egypt's election commission says only two candidates, one of them former army chief and Defense Minister Abdel Fattah el-Sisi, will run in next month's presidential election.
According to AFP, the commission said on Sunday Sisi will face leftist politician Hamdeen Sabahi as they were the only candidates to submit their papers to run in the polls.
On Saturday, Sabahi formally submitted the required documents to the electoral commission after he managed to gather 31,555 signatures from Egyptian citizens endorsing his candidacy.
The politician finished third in the 2012 presidential election, which was won by ousted President Mohamed Morsi of the Muslim Brotherhood party.
Sisi, who led the military deposal of Morsi in July 2013, is widely expected to win the presidential vote scheduled to be held on May 26-27.