Syria
2 car bombs go off near mosque in Damascus countryside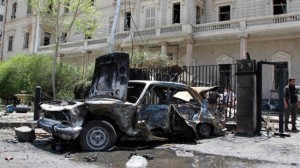 Twin car bombs have detonated near a mosque in Damascus countryside, as fierce battles continue between the army and the foreign-backed militants across the country.
The explosions occurred on Friday in the town of Wadi Bardi, but there are no immediate reports of possible casualties.
The blasts came amid reports of greater achievements for the Syrian military, which has been tightening the noose around areas under the militants' control.
Army units ambushed militants of Liwa'a al-Islam brigade in al-Otaybah district, 70 kilometers southwest of Damascus.
A number of insurgents were killed and their weaponry was seized in the raid.
Several militants of the al-Qaeda-affiliated Islamic state of Iraq and the Levant were also killed in clashes with Syrian national defense forces near the northern city of Aleppo.
Meanwhile, people in several towns across Aleppo staged demonstrations against armed groups, demanding insurgents pull out from civilian areas.
At least three gunmen were killed in clashes with locals after they attempted to use live rounds against protesters.