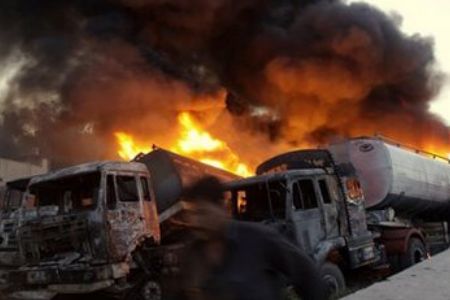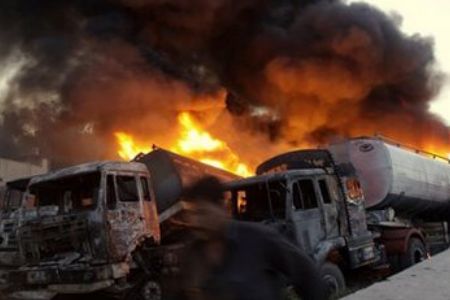 Unknown militants have attacked two more NATO tankers in southwestern Balochistan province in Pakistan amid concerns of the rise of such incidents.
The attack happened late Thursday in Mastung town, the capital of Mastung district of Balochistan province, a Press TV correspondent reported.
The trailers were on their way from Pakistan's western port city of Karachi to Afghanistan's southern Kandahar province, carrying supplies for US-led forces stationed in the neighboring country.
The gunmen stopped the NATO containers near Lakpass area in Mastung district and set them ablaze.
No fatality has yet been reported.
No group has so far claimed responsibility for the attack.
This comes after two other NATO tankers were set on fire in Bolan district of the same province on Wednesday.
Accordingly, unknown gunmen riding a motorcycle opened fire at the NATO oil tankers and torched them in Dhadar area.
Militants have stepped up attacks on NATO supply convoys in Pakistan and neighboring Afghanistan over the past weeks. During this period, large numbers of NATO trucks have been torched in Pakistan alone.
Meanwhile, militants in Pakistan have warned that they will continue attacks on NATO supply trucks as long as unsanctioned drone strikes target tribal areas.
Pakistani authorities have reported nearly 30 drone attacks, which have claimed the lives of more than 150 people since September 3, 2010.
Islamabad has condemned the unauthorized US airstrikes, saying such attacks violate Pakistan's sovereignty and destabilize the country.
Pakistan shut the main Khyber border crossing to NATO supply vehicles heading to Afghanistan on September 30 for 11 days after a cross-border NATO helicopter assault killed two Pakistani soldiers.