China
20 dead, 1000s relocated in China rainstorms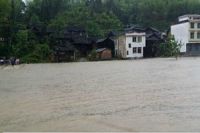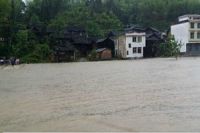 Heavy rainstorms have killed at least 20 people and forced the relocation of thousands of others in several provinces in China, Press TV reported.
The office of provincial flood control headquarters said on Sunday that heavy rains, which started to lash the southern province of Hunan on Thursday, have disrupted traffic, power as well as telecommunications as water levels rose in major rivers and reservoirs.
Pouring rains have reportedly affected 461,800 people in 131 townships and destroyed 1,400 housing units in the province. Local authorities have relocated 50,400 people to avoid risks brought by the rainstorms.
One villager in Jinwutang Township of the province has been killed in a landslide.
In the neighboring Guangxi Zhuang Autonomous Region, downpours have also killed one person and affected 128,600 people.
According to statistics released by the Department of Civil Affairs of Guangxi, heavy rains have destroyed 404 rooms of 145 households and seriously damaged another 800. The economic losses have been estimated at about 75 million yuan (about $12 million). Local officials have relocated 4,139 residents.