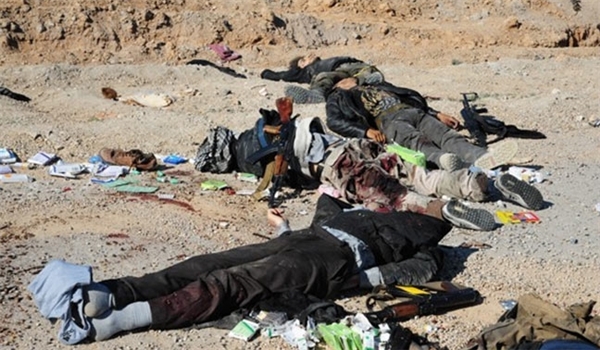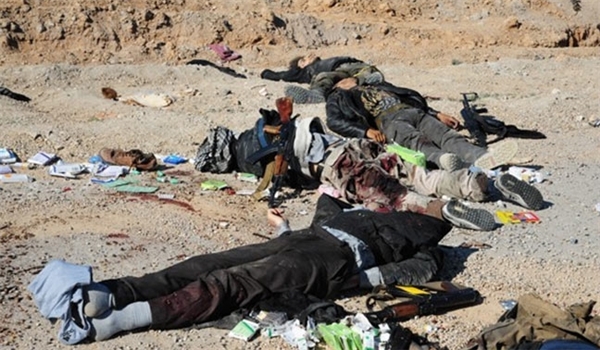 The Iraqi army and popular forces continued their advances in the city of Fallujah, killing tens of terrorists in heavy clashes in Anbar province in Western Iraq over the past 72 hours.
The Iraqi military sources announced that over 200 ISIL terrorists, including senior commanders, were killed in tough battles with the army units and popular forces in the past three days.
Several terrorist groups were dismantled by the Iraqi troops in the recent days.
"In the first operation in Western Fallujah, 34 ISIL terrorists were killed and others were forced to withdraw from the city," a military source announced.
The source went on to say that the forces of the Iraqi army's Brigade 75 ambushed the terrorists in several locations throughout Fallujah city and killed dozens of terrorists after two hours of clashes.
Notorious ISIL commander Hossein Sarhan Matr was among the casualties in Fallujah city.
A terrorist convoy was trying to penetrate into al-Rataba region from al-Rahiya region, but they were killed by the Iraqi forces.
On Monday, Al-Hashed al-Shaabi announced the killing of 49 ISIL elements during security operations South of Fallujah.
"The security forces conducted proactive operations that targeted the headquarters and gatherings of ISIL in the areas of al-Hur and Zebin al-Hanshl in the vicinity of al-Ameriyat (18 km south of Fallujah), resulting in the death of 25 ISIL elements," commander of the al-Hashed al-Shaabi' in al-Ameriyat, Abbas al-Issawi said in a statement, Iraqi news reported.
Also, the commander of Anbar Operations, Major General Ismail al-Mahalawi also announced that 14 ISIL members had been killed and three booby-trapped vehicles were destructed in separate operations near al-Salam area, South of Fallujah.