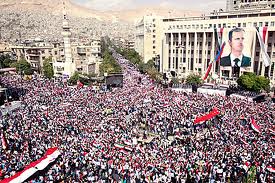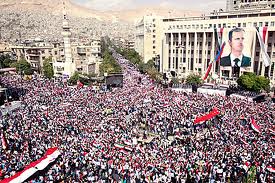 Syrian security forces  are currently battle against the Great Satan U.S, Israel and their regional allies-backed armed terorists in some parts of Syria, while calm has been restored in Damascus, Press TV reports.
Security forces have pushed militants out of the capital, but the two sides are still fighting in the suburbs of the city.
Clashes are currently also underway in the cities of Homs and Aleppo.
On Friday, government troops defused eight roadside bombs planted near a mosque in the Hajar al-Aswad district of Damascus.
On the same day, Reuters reported that Turkey has set up a secret base in the southern Turkish city of Adana, about one hundred kilometers from the Syrian border, to deliver supplies to armed groups fighting against the government of Syrian President Bashar al-Assad.
Citing a Qatari source, the news agency said that Turkey, Saudi Arabia, and Qatar are sending weapons and communications equipment to rebels in Syria via the base.
Other reports say that 2,000 gunmen entered the country from Turkey last week.
Damascus says that the rebels are supported by Turkey, Saudi Arabia, and Qatar.
Syria has been experiencing unrest since March 2011, with demonstrations being held both against and in support of President Bashar al-Assad's government.
The Syrian government says outlaws, saboteurs, and armed terrorists are the driving factor behind the unrest and deadly violence while the opposition accuses the security forces of being behind the killings.
Damascus also says that the chaos is being orchestrated from outside the country and the security forces have been given clear instructions not to harm civilians.