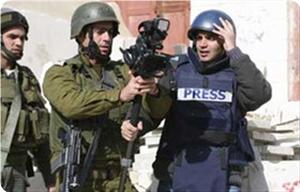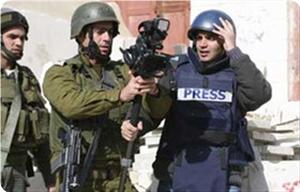 Palestinian official data revealed that the Israeli occupation forces have escalated their violations against Palestinian journalists in the occupied city of Jerusalem.
Jerusalem Affairs unit in the Palestinian Ministry of Information said in a press report on Saturday that the occupation has been systematically exercising different forms of violence on Palestinian journalists in general and Jerusalemite reporters in particular.
The report added that the Israeli authorities have prevented journalists, in the beginning of the year 2013, from performing their jobs in the villages of Bab al-Shams and Bab al-Karama, and detained and attacked some of them.
The report documented 23 attacks on Palestinian journalists in Jerusalem in 2012, represented in firing live and metal bullets and tear gas at them, storming news agencies headquarters and confiscating their properties, and imposing house arrest on a number of reporters.