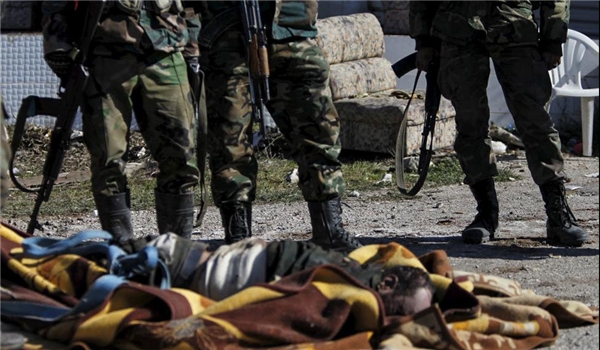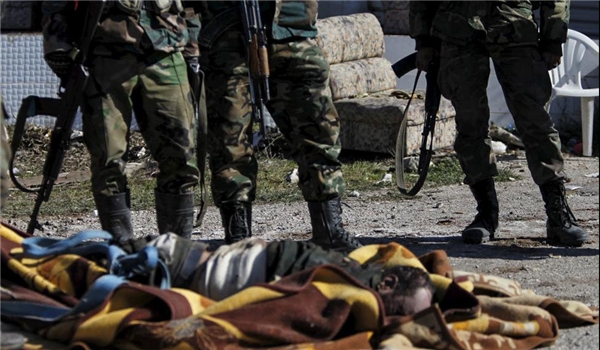 The Syrian government forces have killed over 250 terrorists during the past week while repelling several al-Nusra Front attacks in the Southwestern regions of Aleppo province, the Russian military center in Syria said.
"Since April 3, the al-Nusra Front terrorist group has been conducting unremitting attacks on government forces positions in the Southwest of Aleppo province," commander of the center, Lt. Gen. Sergei Kuralenko said.
"The government troops killed over 250 terrorists and destroyed two tanks as well as other military equipment while repelling al-Nusra Front attacks," Kuralenko added.
The Al-Nusra group is also under fierce attacks by rival groups, particularly ISIL in Northern Aleppo province, where the terrorist group, in a fresh round of offensives on Monday, pushed al-Nusra fighters and other groups back from a town and at least 10 villages in the Northern part of Aleppo province near the border with Turkey.
The ISIL forced al-Nusra Front, Ahrar al-Sham and Free Syrian Army to retreat from the town of al-Rai and ten villages, including Tal Safer, Qantarah, Qarah Quz, Qasajik and Tata humus after hours of clashes.
The intense infighting between the ISIL and its rivals inflicted a heavy death toll on both sides.
Meanwhile, the Russian Command Center in Syria said that al-Nusra has deployed up to 10,000 militants near the Syrian city of Aleppo ahead of a major offensive.
Syrian government forces are not planning to storm Aleppo, their efforts are focused on preventing a blockade in Northern Syria, head of the Russian Operational Command Sergey Rudskoy said earlier in the day.
According to Syrian Prime Minister Wael al-Halqi, the Syrian army supported by the Russian combat aircraft was planning to take the control of Aleppo.