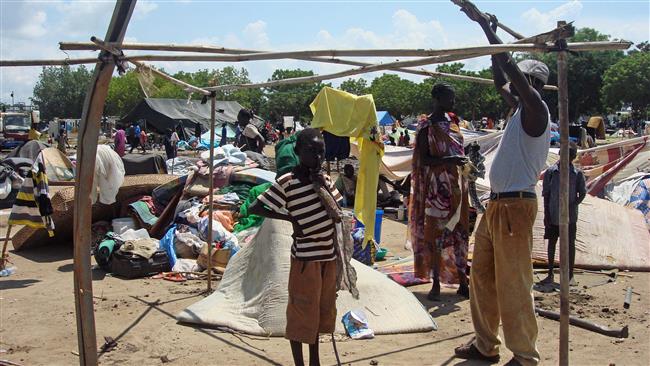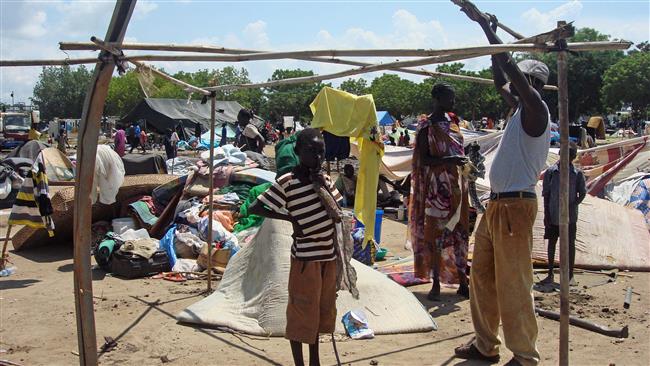 The United Nations Refugee Agency says over 26,000 people in South Sudan have fled to Uganda since early July, when clashes erupted in the capital Juba.
On Friday, Andreas Needham, spokesman for the UN agency, said 26,468 people have crossed into Uganda over the past several days.
South Sudan has witnessed a new wave of conflict since July 8, when gunfire erupted near the state house in Juba, where President Salva Kiir and Vice President Riek Machar were meeting for talks. More than 300 people have been killed in the clashes.
The UN official said the influx of refugees continue despite a shaky ceasefire that took effect on July 11. Women and children account for more than 90 percent of the new refugees, he added.
Needham also quoted the new refugees as saying that fighting continues in the southern part of the country.
According to the UN official, the new refugees say that fighting is continuing in southern South Sudan. In the Magwi area, gunmen are looting properties and recruiting young men and boys, the refugees told Needham.
Meanwhile, Uganda is expected to evacuate another group of its nationals from South Sudan.
The Ugandan army has already evacuated 38,000 civilians, most of them Ugandans, since July 15, a military spokesman said on Wednesday.
Machar has 'no plans' for immediate return to Juba
Machar's supporters said Friday that the former rebel leader has no plans for an imminent return to the capital. They accused President Kiir of trying to oust or even kill him.
The vice president has not been seen in public since he left Juba in the wake of the recent intense clashes.
South Sudan gained independence from Sudan in 2011. The country has gone through turmoil ever since.
The conflict in South Sudan has exposed deep ethnic divisions. It erupted after a power struggle between President Kiir, a member of the Dinka ethnic group, and rebel leader Machar, a member of the Nuer ethnic group.
The two sides eventually signed an agreement in August 2015 to bring an end to the conflict. Despite the peace deal, battles persist across the country.
Machar's movement, known as the SPLM/A (IO), reaffirmed its support for him in a statement and denounced what it said were government efforts to replace the former rebel leader with Taban Deng Gai, who was the chief negotiator for the former rebels during the peace talks.
According to the statement, any attempt to change Machar's role as chairman and commander in chief of the SPLM/A (IO) "is totally rejected."
"It will deal a devastating blow" to the August 2015 peace accord which ended a near two-year civil war, and the government of national unity, the statement added.