Syria
3 People Killed, 21 Others Injured in Booby-trapped Car Blast in Aleppo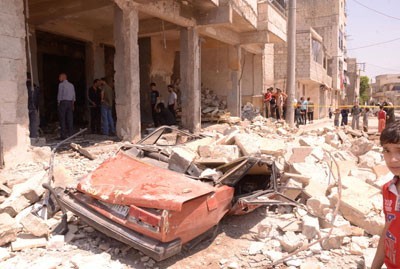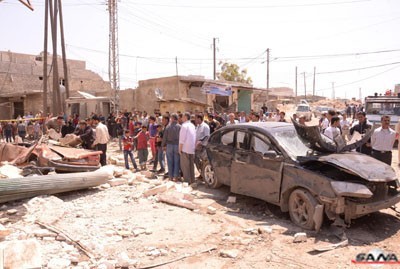 Three people, including a child, were martyred and 21 other were injured on Saturday in a booby-trapped car blast in front of a car wash in al-Sukari neighborhood in Aleppo province.
SANA reporter quoted a source in the province as saying that the explosion resulted in the martyrdom of Abdulhadi al-Shami, 25, Hussein Haj Masto, 30, and Akram Muhbik bin Abdulbaset, 10, and the injury of 21 others, two of them are in a critical condition.
Border Guards Foil Terrorist Infiltration Bid from Turkey, Clash Leaves Martyrs and Injured Personal.
In Idleb province, members of a border guard station at the Syrian-Turkish frontiers foiled an infiltration attempt of an armed terrorist group from the Turkish side at the vicinity of al-Allani village.
An official source told SANA reporter that a number of border guards were martyred and injured while the terrorists fled to the Turkish territories carrying their killed and injured members during the clash.
Armed Terrorist Group Assassinates Military Doctor in Aleppo
An armed terrorist group assassinated Lieutenant Colonel Dr. Ismael Ahmad Suleiman in al-Ansari Neighborhood in Aleppo.
SANA's correspondent quoted an official source as saying that terrorists on motorcycles opened fire on Suleiman while he was in front of his clinic, causing his death.
Dr. Suleiman was married and left behind five children.
Pickup Truck Containing RPG Launchers, Explosives and Ammo Seized
The authorities pursued and seized a pickup truck loaded with smuggled weapons in Termaala area near the Masyaf detour.
A source at Homs governorate informed SANA that two people were in the pickup truck, and that it contained RPG launchers, explosives and ammo.
26 Citizens Involved in Recent Events Turn Themselves in to Authorities in Aleppo and Damascus Countryside
26 citizens who were misled and involved in the recent events in the country and whose hands are clear of the Syrian blood have handed themselves and their weapons in to the authorities in Aleppo and Damascus Countryside.
They were released to go back to normal life after pledging not to take up arms again or take part in vandalizing public and private properties.
The released citizens expressed regret and promised not to participate in acts that affect Syria's security in the future.