Europe
30 dead in record flooding in Bosnia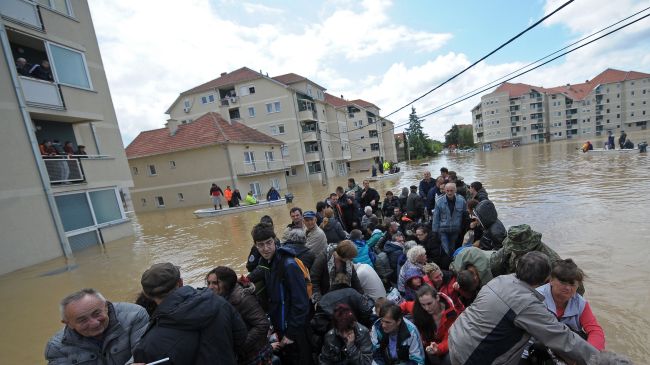 At least, thirty people have lost their lives in Bosnia-Herzegovina and Serbia after heavy rains sparked the worst floods in the region in more than a century.
Official sources said on Saturday that more than 16,000 people have so far been evacuated from flooded villages in the affected areas.
The floods have been unprecedented in 120 years.
According to Bosnian authorities, the flooding has affected nearly one million people, as almost one-third of the country is flooded with houses, roads and rail lines submerged.
One of the country's worst-hit areas is the northeast, where more than 20 bodies have been brought to the morgue in the northern city of Doboj. Bosnian authorities say that the death toll could rise.
In addition, seven bodies have been recovered in other affected areas in Bosnia.
In neighboring Serbia, rescue workers found three flood victims on Friday.
The death toll in Serbia will likely rise as the country's Prime Minister Aleksandar Vucic said "rescuers have started recovering dead bodies from flooded areas, but we will not make the number public before the complete withdrawal of the water."
Serbia's hardest-hit area has been the city of Obrenovac, located southwest of the capital, Belgrade, where the entire city is being evacuated.
Emergency crews and soldiers were using boats and helicopters to rescue thousands trapped in the city.
The landslides have raised the risk of injury or death as many carefully placed warning signs have been swept away around minefields that were left over from Bosnia's 1992-1995 war.