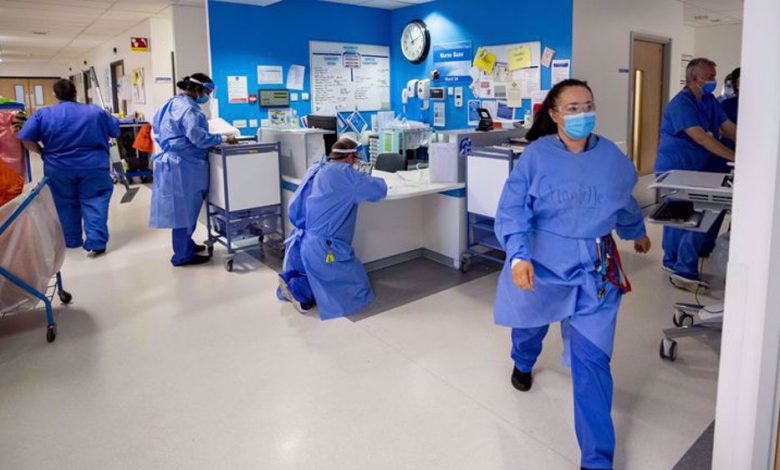 The Royal College of Nursing (RCN) said on Thursday it had been forced into the move after years of real-term wage cuts deterred people from joining the state-funded National Health Service (NHS).
"We are understaffed, undervalued and underpaid," RCN General Secretary and Chief Executive Pat Cullen said. "For years our profession has been pushed to the edge, and now patient safety is paying the price."
Cullen said below inflation pay meant workers could neither afford to stay in or join the profession. HE said "patient care was at risk" due to thousands of unfilled nursing jobs across Britain.
The union demands a raise of 5% above inflation to overcome real-term pay cuts.
The GMB trade union also announced on Thursday that virtually 3,000 paramedics and ambulance workers will be balloted for strike action in England. Stuart Richards, the union's senior organizer, said the country now faced "the first ambulance strike in 40 years" and demanded an above-inflation raise for its NHS workers.
On October 3, the British Medical Association (BMA) announced that junior doctor members will ballot for industrial action in early January after the government failed to meet their salary demands.
The NHS, which has provided healthcare free at the point of use since 1948, is facing its worst ever staffing crisis amid a backlog for care. It has also seen a record rise in the number of people waiting to start routine hospital treatment and increased wait times at accident and emergency departments.
In recent days, a number of unions have set out new dates for strikes that were postponed following the death of Queen Elizabeth II on September 8.
The cost-of-living crisis has prompted workers from railways and airlines to barristers and even trade union staff to either threaten or undertake strike action.
Authorities recently announced a whopping 80-percent hike in electricity and gas bills, bearing testimony to the worsening crisis just before winter sets. They blamed turbulence in the energy market and soaring gas costs in the UK on the simmering conflict in Ukraine.
Britain is already suffering from its highest inflation rate since 1982 and is predicted to enter a recession later this year.