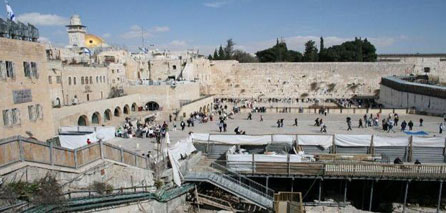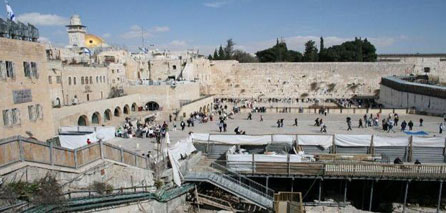 The Israeli occupation approved Sunday a NIS 85 million ($30M) plan to Judaize the Buraq Square, known by Jews as the Wailing Wall, around the Aqsa Mosque.
Israeli e-paper YNet said the budget for the project will be put before the concerned ministries over the next four years in a plan to develop and expand the Buraq Square and raise the number of Jewish visitors.
According to documents disclosed by Palestinian attorney Qais Nasser the plan is aimed at exploiting the funds to continue excavations in the area for archeological purposes and tunnels to provide access to the Jewish public.
He added that Israeli premier's office will put up the budget and see to the implementation of the conversion.
Nasser said the scheme was a continuation of another 20 million dollar plan the government put into effect between 2006 and 2010 to develop the square.
"The allocation of this large budget coincided with Israeli parties launching numerous structural plans in the Buraq Square and Aqsa [Mosque] area, so the budgets would secure the implementation of these projects at the soonest possible time," Nasser went on to say.
Israeli occupation in Jerusalem extended this week rulings barring several Palestinian residents of Jerusalem from the Aqsa Mosque for up to six months, locals reported.
Ehab Saleem Al-Jallad, Hattem Abdel-Qadir, Hamza Badr Zaghir, Majjed Raghib Al-Jouba were those affected by the decision.
Jouba, a former Aqsa Mosque security guard who was barred from entering mosque since 2005, is the longest running Aqsa Mosque ejectee. He was also banned from entering the Aqsa Mosque Islamic endowments department office.
Israeli intelligence summoned Thursday supreme Islamic committee head Ikrima Sabri and Mustafa Abu Zuhra to inform them that the time for their ban from the mosque was up, and to warn them that in the event of future problems a new ruling would be issued banning them from he mosque.