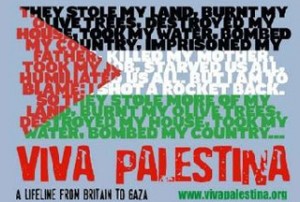 The third international convoy, known as the "Viva Palestina," destined for the Gaza Strip has arrived in Jordan through Syria.
The Lifeline 3 charity convoy containing 210 trucks laden with basic food items and medical supplies was welcomed by the Secretary General of the Jordanian Hashemite Charity Authority Ahmad Amyan who represented Prime Minister Samir Rifai on Tuesday.
The convoy, led by British lawmaker George Galloway, was also welcomed by dozens of Jordanian politicians, activists and unionists who were led by Abdullah Obeidat, president of the Professional Associations Council.
According to Galloway, the convoy would spend two days in Jordan before leaving the Red Sea port of Aqaba for the Gaza Strip.
He further pointed out that he was accompanied by 450 activists, including 30 Americans, 150 Turks and a number of Europeans.
Early December, Galloway told the Islamic Republic News Agency (IRNA) that people in Gaza are in dire need of food, medicine and fuel.
He strongly criticized Western countries and the British government for providing all-out support for Israel and said in the absence of the Western support for the Palestinian people, Muslims are duty-bound to help them.
The convoy left England's capital London on December 3 and will arrive in the Gaza Strip on December 27 to mark the first anniversary of the Israeli offensive against Gaza that left over 1,400 Palestinians dead and about 5,000 injured.
The three-week assault also led to the destruction of schools, mosques, houses as well as UN compounds, inflicting $ 1.6 billion damage on Gaza's economy.