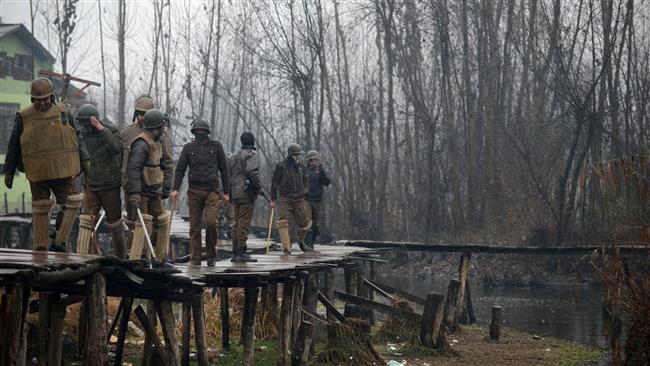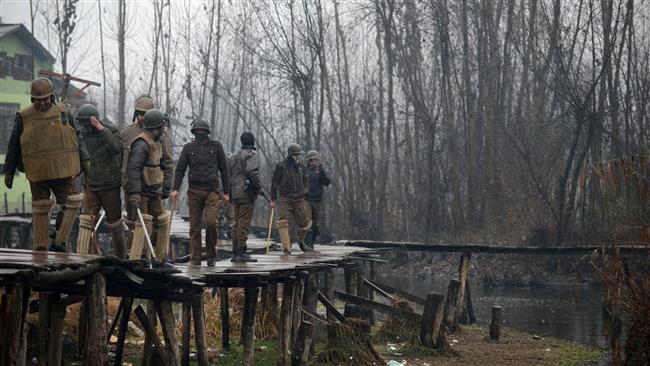 Indian army troops and police forces have killed four suspected pro-independence fighters, and suffered two fatalities themselves in the latest clashes between the two sides in the Indian-controlled portion of Kashmir.
A fierce gun battle erupted on Saturday as Indian soldiers and police officers cordoned off a village in northern Kupwara region following a tip-off that armed fighters were hiding in the area.
The area where the fighting took place is close to the Line of Control dividing Kashmir between neighboring India and Pakistan.
According to reports, the shootout initially broke out on Friday evening and sporadic gunfire persisted throughout the night and into early Saturday morning, when the intense gun battle resumed and resulted in the death of two soldiers and the wounding of two others.
More than a dozen pro-independence groups have reportedly been fighting with Indian forces in the predominantly Muslim-populated Kashmir since an armed uprising in the region erupted in 1989.
The latest spate of violence takes place as cross-border frictions have recently flared up between Indian and Pakistani forces along the disputed de facto border in Kashmir. The two sides have accused each other of provocations.
Kashmir has been divided between India and Pakistan since 1947. Both neighbors claim full authority over the region, though each possesses partial control over it.
More than 68,000 people have been killed in battles between armed groups and army soldiers.
The two countries have fought two wars over the control of Kashmir since they won independence from Britain in 1947.