India
4 Indian regime forces killed in fresh Kashmir clashes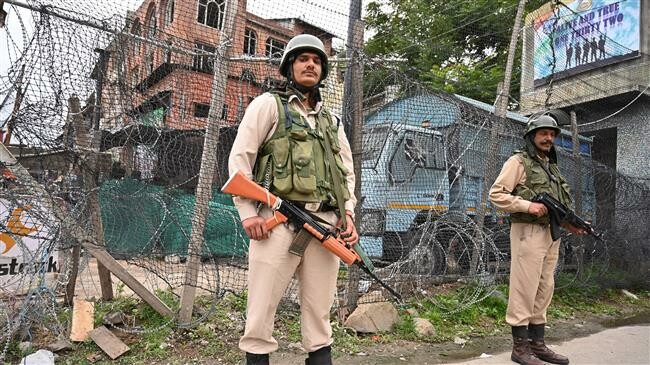 Indian soldiers have engaged in a new gun battle with Kashmir fighters after a car bomb attack and other clashes left four soldiers and three militants dead in the disputed Himalayan region over the past 48 hours.
Colonel Rajesh Kalia , an Indian army spokesman said in a statement that a soldier and two armed men were killed in the latest shootout in the Anantnag area of Kashmir.
Another two soldiers were killed and many more wounded when a remote-control car bomb hit an Indian military truck late Monday in Pulwama district, he added.
According to Kalia, hours before the car bombing, a clash between suspected fighters and Indian forces left one soldier and one militant dead.
In recent years, southern Kashmir has seen intense fighting between Indian forces and armed Kashmiri fighters, who are demanding independence for the Himalayan region. Over 100 have been killed in Indian-administered Kashmir this year in clashes with soldiers.
India regularly accuses Pakistan of arming and training militants and allowing them across the restive frontier in an attempt to launch attacks. Pakistan strongly rejects the accusation.
Relations nosedived in February when over 40 Indian paramilitaries were killed in a bomb attack in Kashmir.
The Indian military conducted airstrikes inside Pakistan later in February against what was said to be a militant training camp belonging to the Pakistan-based Jaish-e-Mohammad (JeM) militant group.
Pakistan retaliated and shot down an Indian fighter jet that it said had violated its airspace. It also captured an Indian pilot during that operation, but released him shortly in a "peace gesture."
India has said Pakistan was to blame for the deaths of Indian troops in Kashmir, which is divided between the two nuclear-armed states but is claimed in its entirety by both sides. Islamabad has denied any role in the bloodshed.
Tensions have since been running high between the two neighbors which have fought four wars since their partition in 1947, three of them over Kashmir.