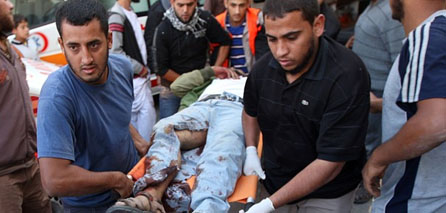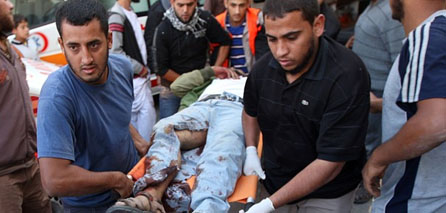 Gaza-The spokesman of the Supreme Committee for ambulance and emergency in the Gaza Strip, Adham Abu Salmiya, said four people were killed and fifteen others were injured in the chain of zionist attacks on civilian targets in the Gaza Strip during November.
Abu Salmiya added, in a statement Thursday (1-12), that three of the martyrs (Muhammad Zahir al-Kilani, Mohammed Amer Abu Halima, and Nasr Ibrahim Al Olayan) were killed in the northern Gaza Strip, while the fourth (Abdullah Muhanna Holiday) was killed in the east of Khan Younis city, and that they are all martyrs who are in their twenties, were killed by missiles fired on them by Zionist occupation's fighter jets which resulted in their death and dismember of their bodies.
During the month of November, more fifteen residents, including the French Consul and his wife were injured , meanwhile they lost their baby due to missiles fired by israeli aircraft, Abu Salmiya pointed out that most of the injuries were the result of the fragments left behind by the c missiles, which varied between minor and moderate injuries.
He also announced that the zionist raids and missile strikes lead to fear and panic among many of the children and women, which negatively affects their mental state.