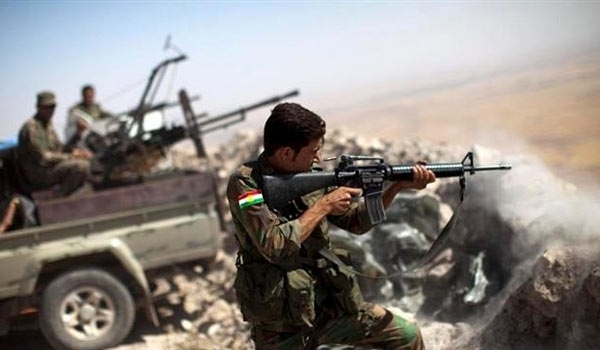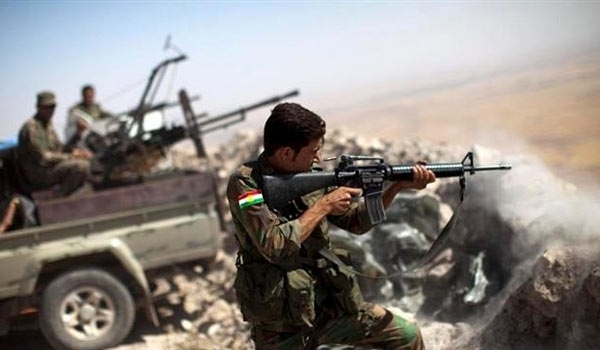 The Iraqi Kurdish forces clashed with the ISIL terrorists in the Northern city of Mosul and killed 5 suicide bombers of the Takfiri group.
According to reports, the Peshmerga fighters repelled an ISIL attack in the area of al-Nouran in Eastern Mosul late on Wednesday and managed to claim the lives of 5 suicide bombers belonging to the Takfiri group.
Earlier, Kurdish forces destroyed a key compound of the ISIL terrorist group during a fierce exchange of fire in Mosul, a military official said.
Dalshad Mawlood, an official with Peshmerga forces, said that the Iraqi Kurds managed to destroy the general headquarters of the ISIL Takfiri group in Western Mosul in a surprise attack.
"Peshmerga forces conducted an attack on a site belonging to the ISIL militants in the village of Tashti in the area of Kesk, located in West of Mosul," he said.
Mawlood added, "The attack resulted in the destruction of the site and killing everyone inside it."
He concluded that dozens of artillery launchers were also destroyed in the operation
The ISIL Takfiri terrorists currently control shrinking swathes of Syria and Iraq. They have threatened all communities, including Shiites, Sunnis, Kurds, Christians, Ezadi Kurds and others, as they continue their atrocities in Iraq.
Senior Iraqi officials have blamed Saudi Arabia, Qatar, and some Persian Gulf Arab states for the growing terrorism in their country.
The ISIL has links with Saudi intelligence and is believed to be indirectly supported by the Israeli regime.