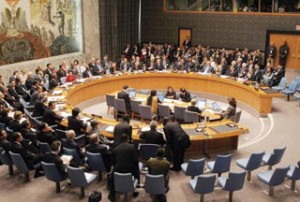 Six major world powers have held fresh talks in New York to discuss a US draft resolution that would slap new sanctions against Iran over its nuclear program.
Envoys from the US, Britain, China, France, Russia and Germany held a meeting behind the closed doors on Thursday.
China, which had resisted discussing fresh sanctions against Iran, also joined the Thursday talks.
"China will participate in the relevant discussions," Chinese foreign ministry spokeswoman Jiang Yu said in Beijing on Thursday.
However she reiterated that Beijing "still believes dialogue and consultation are the best way to solve the nuclear issue."
Tehran has repeatedly declared that it will not relinquish the country's legitimate rights to acquire civilian nuclear technology and has also rejected any desire or plans to develop nuclear weapons.