Syria
President al-Assad Discusses the Arab Initiative about Situation in Syria with the Arab Ministerial Delegation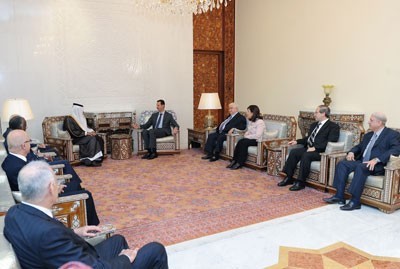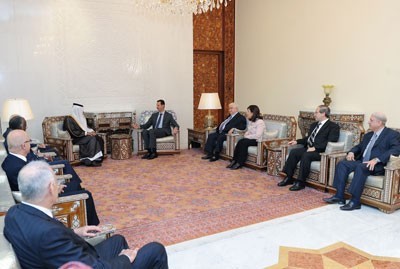 President Bashar al-Assad on Wednesday met the Arab Ministerial delegation, headed by Qatari Prime Minister and Foreign Minister Sheikh Hamad bin Jasem bin Jabr Al Thani.
During the meeting, the talks dealt with the Arab initiative about the situation in Syria.
Discussions were frank and cordial on the events in the country and agreement has been made to hold a meeting between the Arab Ministerial Committee and the Syrian government on October 30 to continue today's discussions.
The Ministerial Committee which attended the meeting comprises the Arab League Secretary General Nabil al-Arabi, Oman's Foreign Minister Yousef bin Alawi, Algerian Foreign Minister Murad Medelci, Sudanese Foreign Minister Ali Ahmad Kirti, Egyptian Foreign Minister Mohammad Kamel Amro and the Assistant Secretary General of the Arab League Ahmad bin Hili.
The meeting was also attended by Syrian Foreign and Expatriates Minister Walid al-Moallem, Presidential Political and Media Advisor Bouthaina Shaaban, Deputy Foreign and Expatriates Minister Fayssal Mikdad and Syria's permanent Ambassador to the Arab League Yousef Ahmad.
In a statement to journalists following the meeting, Sheikh Hamad described the meeting with President al-Assad as long, frank, serious held within a cordial atmosphere, saying "We are happy to meet President al-Assad."
"We talked about all topics included in the Arab initiative… we found a commitment by the Syrian government to reach a solution for this issue along with the Arab Committee… so we agreed to meet on October 30th, The Qatari Premier said.
He referred to another meeting to be held between the Arab Committee and the Syrian government in Damascus or on the sidelines of the Peace Initiative Committee Conference in Doha.
Sheikh Hamad added "we have agreed on some points, but there were other points that need more discussion."
He said "We want to realize outcomes, so we agreed that this issue will be secret till we agree or not agree… God's will, we will agree on a practical solution, based on the seriousness of the meeting… we don't want to come out with a statement that will not give a result that won't be in an interest for the Syrians or the Arabs."
He added "There are issues that the Syrian side wants to study further, and they made proposals that we want to study and we will meet, yet there are some points that we agreed on in general, and there were other points that the Syrian side asked to study in the Syrian institutions in two days." "As an Arab committee, we wanted to discuss among us and meet the brothers in Syria to come up with a clear outcome," he said, adding "What we are interested in is for fighting and violence to stop and that we see no victims from either side."
Answering a question on the terrorist acts of the armed terrorist groups against the Syrians, the Qatari Prime Minister said "Terrorism is rejected anytime, anywhere," adding "but when there is a crisis, it is likely that there are people who would exploit it, and it is important how we can stop fighting by discretion and that the dialogue among the Syrian starts to reach outcomes that meet the aspirations of the Syrian people."
"Reform is needed today to solve the crisis, not only in Syria. There has been a protest movement in other Arab countries and it might go on since radical, not cosmetic, reform is needed."
"It is important that the citizens in Qatar or Syria or anywhere else feel a genuine intention for enacting reforms, not mere promises, but it is equally important to stop violence, fighting and armed phenomena by either side," he concluded.