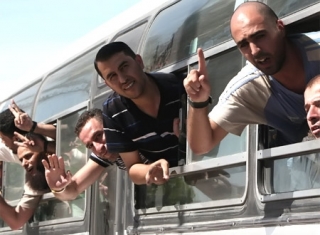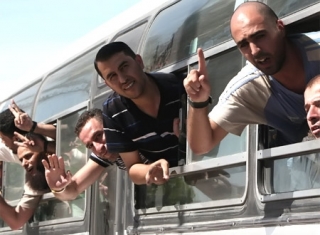 The second phase of prisoners swap deal between Islamic Resistance Movement, Hamas, and the zionist entity is to be completed late on Sunday.
550 Palestinian prisoners will be freed after the nightfall. They will be bused to drop-off points near the West Bank city of Ramallah and along the Gaza border.
israeli sources the prisoners, including six women, would depart from Ayalon prison near Tel Aviv at 7:00 pm (1700 GMT) and would be released to the West Bank, Gaza Strip, east al-Quds (Jerusalem) and the Jordan border three hours later.
41 prisoners would be returned to Gaza, two to east al-Quds, two to Jordan and the remainder to the occupied West Bank.
The first stage of the deal was last October, when 447 Palestinians were freed in exchange for the israeli soldier Jilad Shalit, who had been held in Hamas captivity in Gaza for more than five years.
Unlike the first stage, the second stage will not include anyone "with blood on their hands". The October operation included hundreds of prisoners serving life for killing zionists.
Palestinian officials said there would be a brief welcome ceremony for the West Bank prisoners at the Muqataa presidential compound, but that president Mahmud Abbas would not be present as he would be travelling to Turkey during the evening.
The names of the prisoners to be released were selected by the zionist entity, and none of them belong to Hamas or Islamic Jihad. zionist israeli officials said priority had been given to members of Abbas's Fatah movement.
Under the landmark swap deal agreed with Gaza's Hamas rulers in October, israel agreed to free 1,027 Palestinian prisoners in exchange for Shalit.
It was the first time in 26 years that a captured soldier has been returned to israel alive.