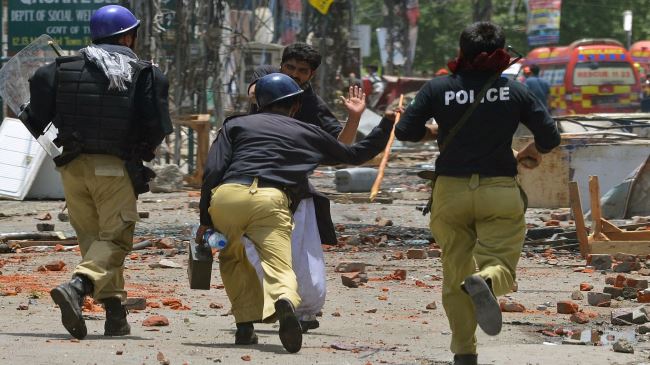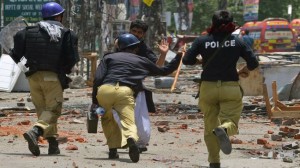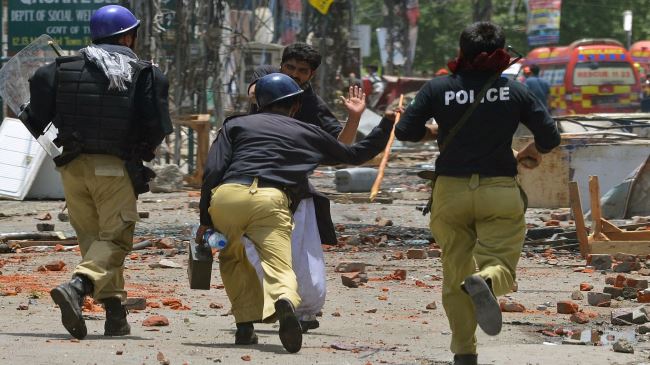 At least seven people, including two women, have been killed and dozens of others injured after Pakistani police forces clashed with followers of an influential preacher in Pakistan's eastern metropolis of Lahore.
The clashes broke out when members of Pakistan Awami Tehreek (PAT) political party, whose founder and chairman is Canada-based Muslim cleric Tahir-ul-Qadri, protested against the police that were trying to remove security barriers in front of the party's headquarters in the Model Town neighborhood of the city.
"We received seven dead bodies including two women. All of them had bullet wounds," Doctor Abdul Rauf, Medical Superintendent at Lahore's Jinnah Hospital, said.
He added, "We also received 80 injured, 40 with bullet injuries and 40 with other wounds. Two injured are critical."
Lahore police chief Chaudhry Shafiq disputed the number of the dead, and said police were among those injured.
"I can confirm five deaths and at least 27 policemen were also wounded, two of them critically," he said, claiming that "deaths are from the bullets fired by workers, not police."
A spokesman for Qadri, Shahid Mursaleen, said the police first shot tear gas to disperse the protesters, then opened fire on them. He added that police arrested 40 to 50 PAT supporters.
Mursaleen also accused Pakistani Prime Minister Sharif of having a direct hand in the killings.
"These killings have been made on the orders of Nawaz Sharif and Shahbaz Sharif. We will register police cases against Nawaz Sharif, Shahbaz Sharif and their team," he said.
Qadri slammed the Islamabad government over "harassment and murder" of his party workers.
"The government, gripped by fear of my arrival due on June 23, is harassing PAT workers," he wrote on the online social network Twitter, adding that it is an oppressive step taken by the government which would pave the way for the spread of terrorism.
Qadri led a rally of tens of thousands of his supporters that shut down Islamabad ahead of the last year's parliamentary polls, giving the government an ultimatum to initiate reforms or face the prospect of prolonged protests.