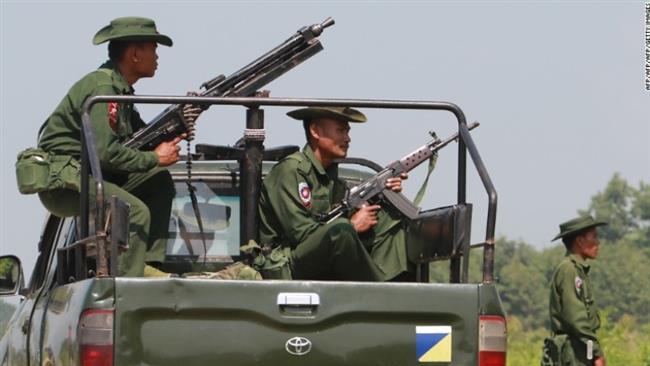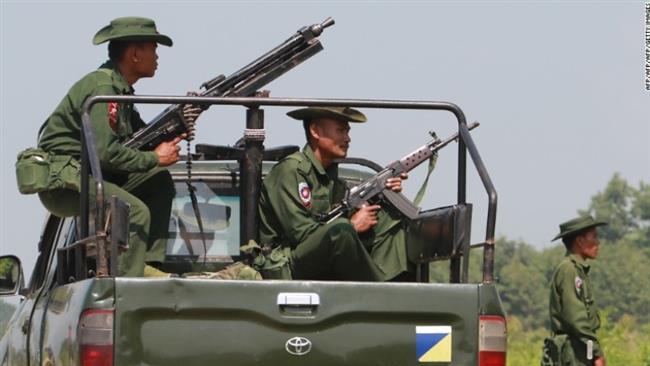 Myanmar says at least 71 people have been killed in attacks on police posts in the western state of Rakhine.
At least 59 Rohingya Muslims and 12 policemen were killed overnight on Thursday in the restive state, where the military is accused of committing atrocities against the persecuted Rohingya Muslim community.
A government statement said militants staged coordinated attacks on at least 24 police posts, while some 150 men were also attempting to break into a military base.
"The extremist Bengali insurgents attacked a police station in Maungdaw region in northern Rakhine state with a handmade bomb explosive," said the statement.
Using the derogatory term "Bengali," the government refers to the Rohingya Muslims, who are denied citizenship in Myanmar.
Myanmar's government brands the 1.1 million-strong Rohingya population in the country as illegal immigrants from Bangladesh. Rohingya Muslims, however, claim roots in the region that go back centuries.
Considered by the UN as the "most persecuted minority group in the world," the Rohingya have been under a military siege in Rakhine since October 2016.  The government used a militant attack on border guards back then as the pretext to enforce the blockade.
There have been numerous eyewitness accounts of summary executions, rapes, and arson attacks by the military since the crackdown began.
The crackdown has resulted in some 87,000 Rohingya Muslims fleeing the Buddhist-majority country to Bangladesh since last year.
Over 400,000 Rohingya refugees are already living in overcrowded squalid camps and makeshift settlements in the bordering district of Cox's Bazar.
Bangladesh has recently stopped thousands of Rohingyas on the border. Only this week, it turned back a boat carrying dozens of refugees, including children.
Bangladesh says it is no longer capable of hosting the refugees.
Rohingya villagers blockaded by Budhist neighbors
Rakhine state has also been the scene of communal violence at the hands of Buddhist extremists since 2012. Hundreds of Muslims have been blockaded inside their villages in recent weeks.
Aid workers and residents in the area said Muslims in the village of Zay Di Pyin are under siege by the armed forces and the Rakhine extremists.
A commission, led by former United Nations chief Kofi Annan, has warned of an escalation of violence in the restive Rakhine state, if ethnic tensions are not addressed urgently. The commission urged Myanmar to end restrictions on movement and citizenship for its Muslim Rohingya minority.
In its final report, the nine-member commission described the Rohingya as "the single biggest stateless community in the world".