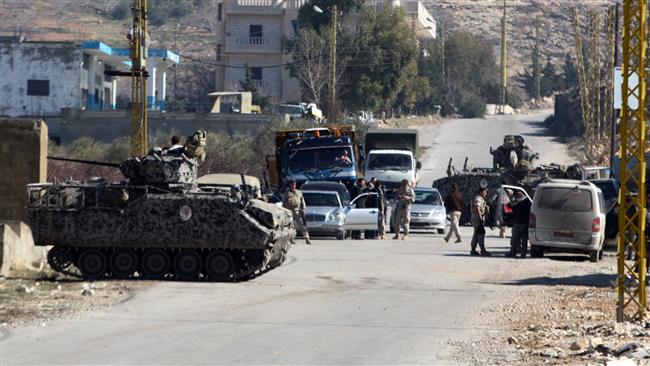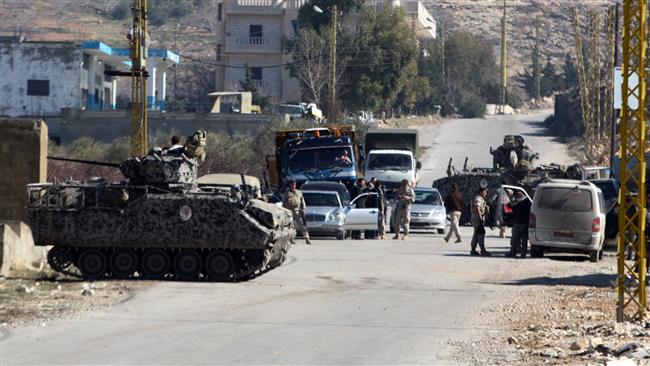 Clashes between the Lebanese army and Takfiri militants have claimed the lives of eight Lebanese soldiers near the Syrian border.
According to the Lebanese military sources, the bodies of three soldiers were discovered near the Lebanese village of Ras Baalbek close to the Syrian border on Saturday.
Five other soldiers were also reported to have lost their lives following fierce clashes with Syria-based Takfiri terrorists.
On Friday, the ISIL Takfiri terrorists launched a massive attack on Lebanon's army positions near Ras Baalbek.
Ras Baalbek is located near the town of Arsal, where terrorists killed and kidnapped two dozen Lebanese soldiers in August 2014.
Over the past months, Lebanon has been suffering from terrorist attacks by Takfiri militants and random rocket attacks, which are viewed as a spillover of the conflict in Syria.
The violence fueled by Takfiri groups in Syria has claimed the lives of over 200,000 people since early 2011, according to reports. New figures show that over 76,000 people, including thousands of children, lost their lives in Syria last year.
Takfiri groups, with members from several Western countries, control parts of Syria and Iraq, and have been carrying out horrific acts of violence such as public decapitations and crucifixions against all communities such as Shias, Sunnis, Kurds, and Christians.