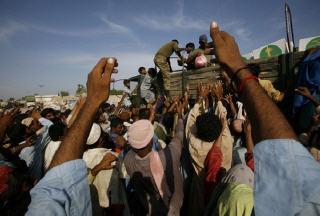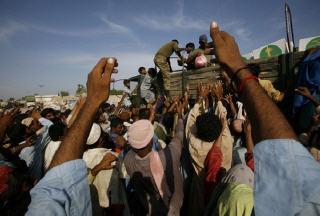 The United Nations said Thursday that the numbers of Pakistan flood victims who need immediate assistance has risen to 8 million, requiring more money than previously requested.
"The new estimates show about 8 million people would need urgent assistance in terms of food, shelter and medical health," Maurizio Giuliano, a spokesman of the UN's Office for the Coordination of Humanitarian Affairs (OCHA) said.
Earlier the UN had appealed for 460 million dollars to help the estimated 6 million Pakistanis in need. The amount of the appeal
might increase, the spokesman said, without giving any figures.
UN Secretary General Ban Ki-moon planned to meet with the UN General Assembly later Thursday to discuss the international response to the floods.
The world response, after initial sluggishness, was picking up.
Giuliano said that the UN had secured 272.4 million dollars – 231 million dollars in cash and 41.4 million in pledges – equivalent to 60 percent of the appeal.
The worst floods in Pakistan's history have submerged around one-fifth of the country, with local and UN officials giving conflicting figures of the numbers of people affected.
Pakistani Prime Minister Yousuf Raza Gilani and UN General Secretary Ban Ki-moon last week put the number at 20 million.
However, Giuliano said on Thursday that 15.4 million people are affected, including at least 7.5 million children. An estimated 971,000 homes have been destroyed or damaged, leaving 6.8 million without a home.
Some have already received help, but 4.6 million still have no shelter, Giuliano said. "We should not be surprised if the numbers go even higher, because millions of people are on the move," he said.
"Many many of these need food, medical health and clean drinking water."
But the camps were also facing their own problems, as waterborne diseases were reported, raising concerns among the aid agencies.
"Three children have died due to gastroenteritis, a disease caused by impure water," an aid worker said in a relief camp in the southern port city of Karachi.
The children – one girl and two boys, were aged 2 1/2 to 6, said Qamar Abbas, spokesman for Edhi, a local humanitarian organization. "These deaths are a matter of great concern for us," he said.