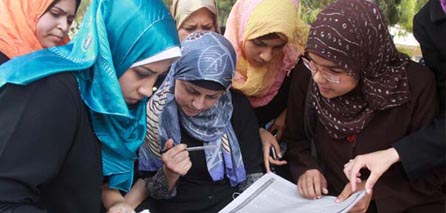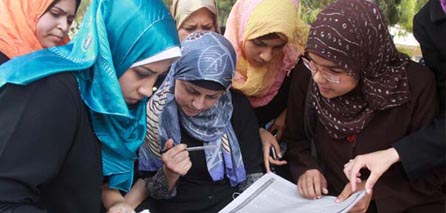 Besieged Gaza Strip-After hard efforts, Palestinian High school students of( Tawjihi) celebrate their success for being qualified to get their higher education in Palestinian universities, which is considered as part of their future dreams.
Today Thursday 22nd of July 2010 is the day of happiness and fun for those Palestinian students who succeeded in High school education.
High school results announced today by cooperation between Ramallah and Gaza governments as a great scene of Palestinian national unity.
Ministry of Higher education in Gaza has released today, Thursday the results of Tawjihi students asserting that success of Palestinian students for this year reflects the steadfastness of Palestinians in face of Israeli occupation.
Mr Asqool, the Palestinian Minister of Higher education in Gaza government declared that Palestinian high school students have passed a difficult experience achieving honorable results.
He added that despite the Israeli blockade on Gaza Strip which affected all fields of Gaza life, especially the continued cut of electricity, results came out well, and success is the brand of this year.
In addition, Palestinian Prime Minister Ismail Haniya called the new regiment of students of this year, as" the Regiment of Freedom Flotilla Martyrs".
Atmosphere of joy and fun, happiness and cheer covers the Palestinian society for the bright success achieved by Palestinian high school students for this year despite the occupation and its criminal acts against our people.
Messages of congratulations started fall on those who achieved high percentages , desserts and sweets also established as part of Palestinian tradition in such cheerful occasions.
Tears of happiness were seen at faces of most students who were expressing their internal feelings happily and joyfully.