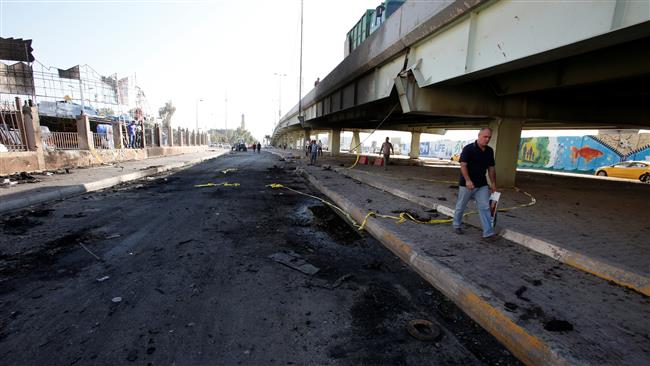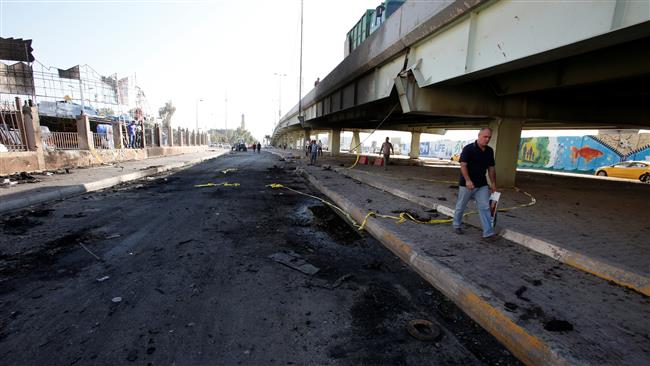 At least 12 people have been killed and 27 more injured in and around the Iraqi capital in a series of bombing attacks, say medical and police sources.
The bloodiest attack targeted the Arab al-Jabour area in Baghdad's outskirts on Saturday, where four people were killed when an improvised explosive device detonated close to a civilian car.
Three civilians were killed and nine more injured as a bomb went off in a market place in one of the capital's northern suburbs — Taji.  And a bomber detonated an explosive vest in Baghdad's Allawi district, killing two people and injuring eight more. Three people were also killed in two separate road side bomb explosions in the city's al-Husseiniya district and in Yousifiya districts.
No individual or group has claimed responsibility for the assaults yet, but such incidents are usually blamed on the Takfiri Daesh terrorist group.
Saturday's blasts come just one day after Daesh killed almost three dozen people and injured tens more in two car bomb attacks that struck a busy mall in Baghdad.
A car rigged with explosives was detonated at the car park of al-Nakheel Mall in Palestine Street in eastern Baghdad and an assailant blew up his explosive-laden car at the busy street outside the mall building shortly afterwards. The explosions set ablaze a number of cars parked at the parking lot and outside the mall, and damaged many others.
The northern and western parts of Iraq have been plagued by violence ever since Daesh terrorists mounted an offensive there more than two years ago. The militants have been committing vicious crimes against all ethnic and religious communities in the country, including Shias, Sunnis, Kurds and Christians.
The Iraqi army and volunteer fighters from the Popular Mobilization Units have been engaged in joint operations to retake militant-held regions.