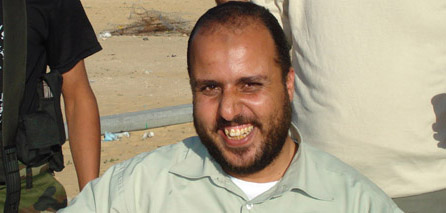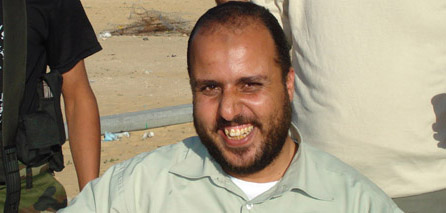 During war on Gaza many Palestinian families were totally vanished by Israeli destructive machine.
Al Batran's family was one of these families who were vanished by Israeli occupation during war on Gaza, mother Manal al Shaer and the three daughters: Islam 14-years, Ihsan and Eman 11-years old and the two sons Belal 8-years old and Ezzedeen 5-years old, all were massacred by Israeli occupation in 2008-2009 war.
The massacre took place when Israeli airforces targeted the house of Essa al-Batran in Al Bureij refugee camp-central Gaza Strip with two missiles at least caused of death of whole family except the younger son AbdulHadi 7-month baby.
This Israeli massacre to be added to long black list of massacres committed by Israeli occupation against humanity in Palestinian territories.
After the Israeli war and lose of whole family, Essa's mother asked him repeatedly to marry a new lady to continue his life normally without sorrow.
Essa accepted mother's order to get married from Sundus Taha Al-Muqayyad, 24 and now he has two sons to follow his footsteps Mohammed from the new wife and AbdulHadi who survived from Israeli brutality.
The 38- year old commander was born in 14/8/1973 for a Palestinian family who was expelled from its own land of Al Faluja in the occupied territories of 48.
Essa spent whole time serving his religion, following rules of Islam and commands of Allah swt and his Messenger Mohammed peace be upon his soul.
He served in Al Qassam Brigades, the military wing of Hamas as a loyal and honest commander who did not give up, despite the deep pain he faced.
Martyrdom of Essa, the father:
On Friday night 31 of July, Al Qassam commander Essa al-Batran was on an appointment with martyrdom when hateful Israeli F16 targeted his new house in Al Nuseirat refugee camp, central Gaza Strip.
The attack caused of martyrdom of the Qassam commander Essa, while massive destruction was left in the area.
Finally, and After five Israeli attempts aimed to assassinate him, he got his wish of meeting family he lost during war.
Today, Essa Batran meets with his family he so long missed since long time of separation.
No doubt, Al Qassam brigades are going to miss a great commander who so long spent his valuable time for Jihad against strangers who stolen the land and committed the most brutal acts against the innocents.
As he was a loyal and brave commander, Al Qassam Brigades vows revenge and vows to keep loyal for his blessed blood and all martyrs till the liberation of whole Palestine.