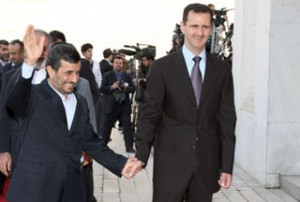 A new Middle East is in sight where trails of Zionists or Arrogance no more exists, President Mahmoud Ahmadinejad said in a joint news conference with his Syrian counterpar tBashar Assad in Damascus on Thursday.
He added Tehran and Damascus are determined to boost bilateral relations.
Ahmadinejad went on to say that the whole world and region are at the verge of a great development, adding the relations which ruled the world during the past few decades are reaching the end and the Zionist regime's file is closing.
"If the Zionist regime wants to repeats its past errors, its death will be inevitable," said the Iranian President.
The Syrian President for his part said that President Ahmadinejad's visit was proof that Iran and Syria were united and counter against enemy divisive plots.
He said the region was undergoing special conditions with some trying to stir Islamic communities as they did to African countries.
He regretted that some ignorant entities in the region were abusing the plots.