Syria
A Rally of over a Million Citizens in Lattakia to Support Syria's Independent Decision against Foreign Interference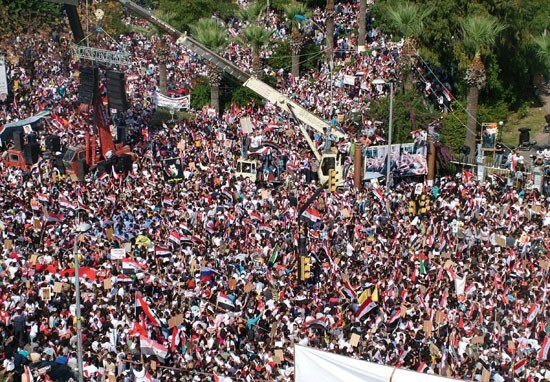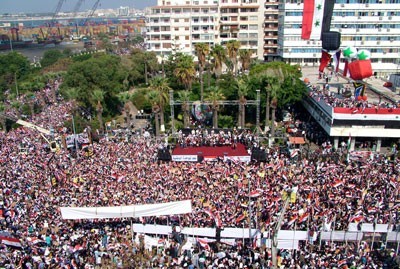 In a national symphony with all voices united, more than one million citizens gathered in al-Muhafaza Square in the coastal city of Lattakia on Thursday to call for working hand in hand to confront the foreign conspiracy to overcome the crisis and preserve Syria's security and stability.
The chanting of the rallying crowd who included all the sections of the society in Lattakia expressed support to reform and the independence of national decision, with the marchers voicing their rejection of all forms of foreign interference.
Lattakia inhabitants, coming from the city and the villages, did not forget to express thanks to the friendly countries and peoples who have stood by Syria and believed in the Syrian citizen and his leadership's ability to overcome the crisis and formulate a national equation without foreign interferences.
The national army which has offered great sacrifices in defending the homeland had a great share of the chanting which called for supporting the army personnel in their efforts of protecting Syria's stability and security and appreciating their precious sacrifices for preserving its pride.
Since early in the morning, crowds of people poured into al-Muhafaza Sqaure coming from the city and countryside of Lattakia to express with a strong voice their rejection of the foreign conspiracy hatched against Syria and support to the comprehensive reform program under the leadership of President Bashar al-Assad.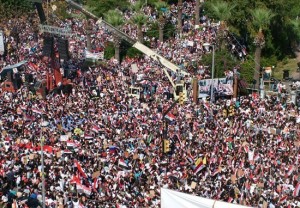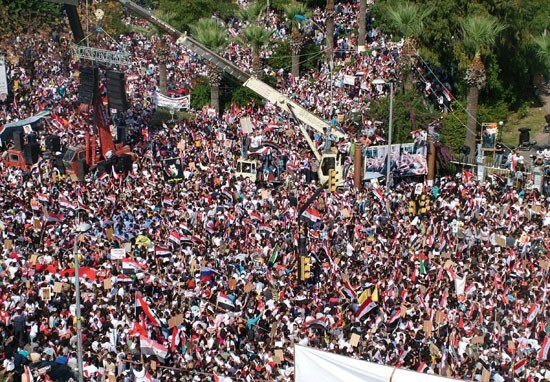 The square resounded with the crowds' chants saluting the civilian and military martyrs for the sacrifices they offered for the sake of their homeland, thanking the friendly countries which supported Syria.
The crowds condemned the conspirators' devilish endeavor and their terrorist media tools which try to fabricate events that serve their interests.
Ceremonies of this popular festival started by observing a moment of silence followed by singing the national anthem of Syria, while participants raised a 2.5km-long Syrian flag.
"We swear to God we will remain loyal to our leader and Syrian Army" the crowds, who represented all sections of the Syrian society in Lattakia, swore with a loud voice, expressing their support to President al-Assad's leadership in the reform program which aims at laying the bases of justice and freedom.