Syria
A Saudi leader of ISIL and a leader of "Free Army" killed in fights with Syrian Army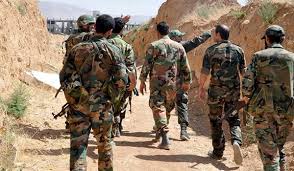 Breaking News Network- Exclusive
Syrian Arab Army killed a leader of the Islamic State of Iraq and the Levant (ISIL) in Homs countryside, while battles continue with gunmen in Idlib countryside where army fought battles through which it managed to kill a militia leader in al-Zawiyah Mount.
Syrian Army kills a Saudi leader.
The Saudi Leader of al-Qaeda Yaslem Hwelan al-Sa'er, called by "Abu al-Monzer al-Shurori", has been killed by Syrian Arab Army during clashes that took place in al-Sukhnah town of Homs countryside.
As battles broke out between both sides, army killed around about 17 members of "ISIL" while army troops sustained several injuries.
Syrian Army hits armed men in Idlib and kills a rebel leader of "Free Army"
The Army has frustrated militants' attempt to infiltrate Ghannoum Farm located along Aleppo-Damascus International Road, the thing that resulted in the death and the injury of many armed men besides the destruction of a vehicle with a Dotchka machine gun.
Breaking News Network reporter stresses that units of Syrian Army targeted locations and gatherings of insurgents in Ma'aret Masreen and Kaferjales of Idlib countryside, what resulted in the death and the injury of many militants and the destruction of more than 12 vehicles, most of them are also with machine guns.
Units of Syrian Arab Army have destroyed 10 of the armed men's vehicles, some of them are loaded with arms and ammunition in Sermin city of Idlib countryside, as they have targeted gatherings of armed men in Nhela, Nahla and Kafershlaya towns and continued operating in Jabal al-Arbain as well as they have destroyed locations of insurgents around Marzaf and Kafer-Lata villages.
Moreover, Syrian Air Forces targeted locations of the gunmen in Iblin and Abdita of Jabal al-Zawia destroying two vehicles and eliminating the armed men in those vehicles.
Breaking News Network correspondent to Idlib countryside says that clashes occurred between two armed groups in Kafranbel township of Idlib countryside. Those clashes started as an armed group attacked a checkpoint of the other. Both parties sustained deaths and injuries; the rebel leader Fares al-Bayush "the command of Fursan al-Haq beigade" was recorded among the injuries.