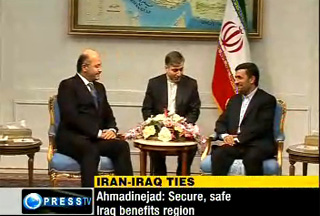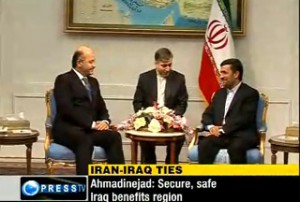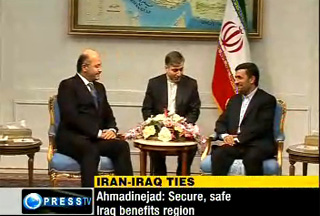 Iranian President Mahmoud Ahmadinejad says that a safe and secure Iraq would benefit the entire Middle East.
President Ahmadinejad made the remarks during a meeting with Iraqi Kurdish Regional Government (KRG) Prime Minister Barham Salih in Tehran on Sunday.
Ahmadinejad said that the Iranian people and government will do their utmost to help stabilize Iraq.
He stated that all the countries of the region must make progress because that would benefit all governments in the Middle East.
Salih praised Iran for standing beside the Iraqi nation during difficult times, saying it is something that the Iraqi people will never forget.
This is Salih's first visit to the Islamic Republic of Iran since assuming the post of KRG prime minister. His last visit to Tehran was in August 2008, when he was Iraq's deputy prime minister.
On Saturday, Salih met with Foreign Minister Manouchehr Mottaki, Parliament Speaker Ali Larijani, and a number of other high-ranking Iranian officials.